Finally, Markiplier is bringing his Tasteful Nudes to OnlyFans, just as he promised us! Seems like OnlyFans hasn't prepared the servers for the storm that was coming.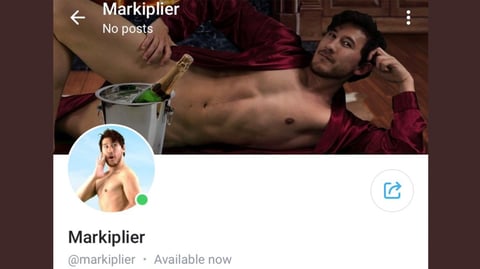 As a content creator you can make your fans do many things with the right incentive. A great demonstration of this is the story of Markiplier and his OnlyFans. Now finally the fans can reap the rewards for all their hard work.
This morning an ominous tweet appeared:
tomorrow

— Mark (@markiplier) December 8, 2022
After seeing this, there was just one thing you could do. In a matter of minutes the fan base scoured OnlyFans and found a verified account already set up and with a very fun profile message:
I'm sure that you reading this is a result of innocent happenstance whereby you JUST SO HAPPENED to find yourself stumbling through Only Fans (covering your eyes in horror all the while, I'm sure) before landing upon my humble page. No matter what the reality of your arrival is, I'm pleased to inform you that you've found Markiplier's (me) Official Tasteful Nudes Only Fans. And for that, I am proud and/or ashamed of you.
So it is official! In a few hours Markiplier will be an OnlyFans celebrity and fulfill his promise to his fans. Hopefully the Internet doesn't explode from it.
Markiplier's Challenge To The Fans
But how did we get here? The short version is that Mark made a "Tasteful Nudes" calendar in 2018. It was a big success, selling very fast and the complete earnings of 500,000 US-Dollar were donated to the Cancer Research Institute.
Inspired by this, Mark issued the following challenge. They had to get the two podcasts "Distractible" and "Go! My Favorite Sports Team", that he is doing with his friends, to spot number one on both Spotify and Apple Music. Sadly there weren't many Apple users listening, so it was a narrow loss.
Seeing the dedication for his new endeavor, Mark amended the challenge a bit. Instead, everyone could just buy the new documentary "Markiplier from North Korea" that his mother made to show Momiplier some love.

Markiplier officially conceded on November 2 in a video:
Oh, sweet naive Mark wasn't prepared for the overwhelming demand, so he still had to get everything ready. Of course, he wants the account to have the right username and to be certified. To do that, OnlyFans were contacted and patience was needed from his fans for a little longer.
Now finally the time has come to unleash the might of the Markiplier fan base upon unprepared OnlyFans servers. Let's see if they still stand tomorrow.
Fans Crash Markiplier's OnlyFans Page Within Minutes
Just minutes after Markiplier uploading the video to announce his OnlyFans, users were having issues accessing his OF page.
The thirst for the tasteful nudes was too much for the platform to handle.
...really guys? pic.twitter.com/74XVt7jAUB

— Mark (@markiplier) December 9, 2022
Even Markiplier seems consistently surprised by his viewers' willingness to "donate to charity".
Soon after, the page was brought back to life, so if you want to get those tasteful nudes, you can do so yet again.
Come on, just do it! I know you want to. It's for a good cause.