IShowSpeed responded to the "racist" comments he made during his World Cup stream.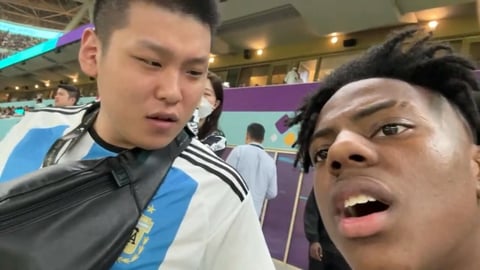 Drama machine IShowSpeed received backlash, after making "racist" comments about a Chinese Argentina fan, during his broadcast of the World Cup.
The young YouTuber is a well known soccer fan, so him visiting the World Cup in Qatar is not that big of a surprise. Also, not the biggest surprise was, that Speed got himself in trouble again.
Previously, he got into trouble with Sky Sports, because of sexist remarks towards female players. He deleted the videos and tweets, but they still cut ties with the young streamer. Speed later responded, saying he wants to do better, but his recent comments beg to differ...
IShowSpeed Making "racist" Comments At The World Cup
As a big Cristiano Ronaldo fan, Speed wouldn't miss the chance, to see his idol play in the World Cup. So obviously he travelled to Qatar, broadcasting the event.
Problem is, a clip has begun to surface that shows Speed confronting a Chinese fan about wearing an Argentina jersey. The Chinese man appears confused, to which Speed responds by repeatedly yelling "konnichiwa", a Japanese greeting.

The clip in question pic.twitter.com/1fGUOUbY2P

— Jake Lucky (@JakeSucky) December 6, 2022
This is already pretty bad, but it gets even worse. The man corrects Speed, saying that he is in fact Chinese, but the YouTuber completely ignored him while continuing to blurt out "konnichiwa".
Speed Responds To Backlash After World Cup Stream
After the clip got viral, Speed was quick to respond... in a weird and kinda wacky way.
He pretty much explains that he is not being racist. His explanation is, that at first he thought the man was Japanese, so he wanted to greet him, saying "konnichiwa", because he watches a lot of anime...
my response to racist accusations pic.twitter.com/cfH0P0Qtle

— Speed (@ishowspeedsui) December 6, 2022
Then, after realizing the man was in fact Chinese, he states he tried to say a nickname he has in China.
I guess this apology would have been better off, if he didn't mention how much he "loves other races", or that he "loves Chinese" people. This just comes off as a "I'm not racist, my brother has a POC Girlfriend, and we're cool" kinda argument.
Also, the nickname he states he wanted to say, was very unlike what he said in the clip.

But I guess Speed is just way too good at creating drama.