Adriana Chechik reveals that fellow streamers TheDanDangler and Indiefoxx approached her to try and take down Amouranth.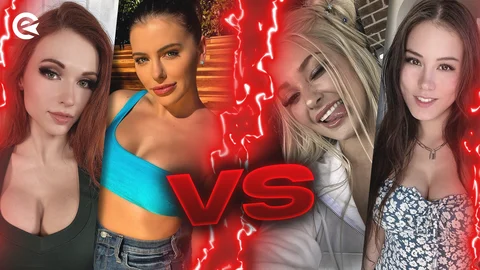 Twitch is a highly competitive space where networking and content ideas can make or break your career as a streamer. Now we spice things up with a little Game of Thrones as two female streamers, Indiefoxx and TheDanDanger approached Adriana Chechik for their scheme to take down Amouranth.
JenFoxx & TheDanDangler Team Up Against Amouranth
Amouranth is widely regarded as one of the most successful female streamers and has garnered a huge audience through her ASMR and hot tub streams. Now her former rival Indiefoxx (who has now renamed herself as JenFoxx), as well as a new competitor TheDanDangler are teaming up to get her banned on Twitch.
This was revealed by none other than former porn star Adriana Chechik, who had her fair share of trouble with Amouranth in the last couple of weeks. Which is probably why Indiefoxx and TheDanDangler felt confident that she would support their scheme.
On May 8, Chechik revealed their plot on Twitter, claiming that the two of them wanted to do a podcast with her and use that platform to get Amouranth banned:

"Same as Dan she hit me up with a text from Indiefoxx trying to get me to do a podcast with her to bring Ammouranth down. Like no, I said she was mean, but I'm a grown woman and it's not my job to defame anyone."
In another tweet she then goes on to explain how even though there is some bad blood between her and Amouranth she doesn't want to drop to that level of defaming a fellow content creator.

To prove her statements, Adriana Chechik even provided screenshots of dm's and explained her standpoint on the matter.
Like what is this drama starting bullshit, I am team woman. And when I said let's do it I was referring to a collaboration not bringing a girl who's banned on my twitch which is against tos to trash someone, you guys should start finding better idols to look up to. pic.twitter.com/euxtaW30r8

— AdrianaChechikTV (@ChechikTv) May 8, 2023
Talk about underhanded methods! Even though in the text messages Chechik says "let's do it", she emphasizes that she was talking about a collaboration, not their "plan".

So far, neither Indiefoxx nor TheDanDangler have responded to the claims made by Adriana Chechik, but as soon as they do, you can read about it here.
Women on Twitch face quite a lot of troubles as is, so not tearing down a fellow female streamer seems like a good take to have:
This article contains affiliate links which are marked with [shopping symbol]. These links can provide a small commission for us under certain conditions. This never affects the products price for you.