Controversial streamer TheDanDangler just received an insane amount of money for a butt surgery as an IRL donation. Now she is searching for her benefactor.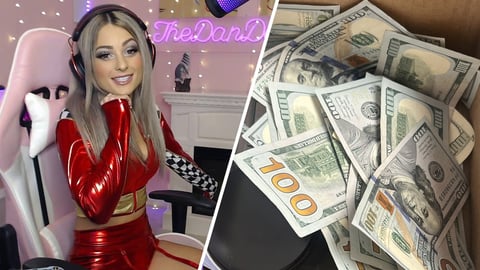 An anonymous fan has sent popular Twitch streamer and OnlyFans content creator TheDanDangler $10K for her Brazilian butt lift. Now the popular influencer is searching for her benefactor, and hundreds of simps claim to be the donator.
As one of Twitch's most controversial figures (I mean, she got banned 7 times), the OnlyFans star has amassed a lot of fans with apparently way too much money on their hands.
OnlyFans Model Promises To Find Anonymous Donator
On January 10, TheDanDangler posted a picture showing a box full of money on Twitter. Apparently, an anonymous fan sent her a boatload of cash for her Brazilian butt lift.

Bro someone payed for my Butt Surgery WTF I WILL FIND YOU!!!! Holy shit. *for everyone asking he sent me 10k no name and no one has spoke up pic.twitter.com/afgS7QyfEi

— TheDanDangler (@thedandangler) January 10, 2023
In the message he states that "In this package you will find some things I hope make you feel better [...] I also would like to pay for the cost of your procedure, so on top of the goodies, you will also find $10K cash".
Now the OnlyFans star is determined to find out the identity of the unknown hero and is urging him to reveal himself. This dude really is taking simping to another level.
Now a LOT of people have come forward, claiming to be the mysterious Samaritan, but so far his real identity is still unknown.
One thing is for certain though, for TheDanDangler and her simps, this donator was the hero they needed, as a Brazilian butt lift will make her OnlyFans content all the more exciting.