It's been a long and entertaining year, so let's look at the streamers that dominated Twitch in 2022!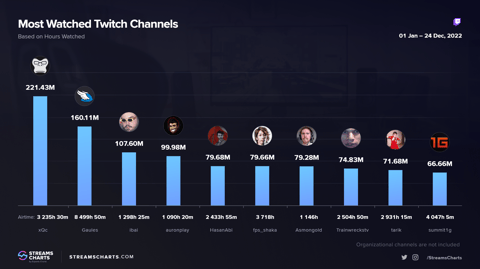 A huge part of our year was watching streamers conquer different games. So let's do a recap of the most watched Twitch streamers of 2022 and why people like them. All statistics are from Streamcharts.
6th-10th: New And Familiar Faces
Compared to last year, we've seen some changes. Summit1g dropped from sixth to tenth with a big drop in views, and he almost disappeared from the list completely!

On ninth Tarik jumped into the ranking for the first time. You might know him as a popular community caster for Valorant tournaments. This is big for fans, and it shows how large the Valorant community has become.
Just this year Trainwreckstv made it in even though his content lies in the Slots category. It was recently banned from Twitch, which is the reason for his switch to Kick. Even with this obstacle at the end of the year he placed well.

To no one's surprise Asmongold appears on here. The streamer had a superb year with a wide diversity of streams and a new WoW expansion. His views counted on this list only encompass his main channel. If you counted Zackrawwr as well, the placement would be even higher!
Pretty unique as a streamer is HasanAbi with his mix of political commentating and gaming. Now this year the content creator rose two places to 6th spot overall.
5th-1th: Celebration for International Streamers
An especially strong year happened for streamers that speak other languages beside English!

Our first international streamer on this ranking is Japanese streamer fps_shaka, who is mostly known for Valorant and League of Legends. Talk about a steep rising, because as a newcomer he immediately claimed the fifth spot!
Another international star is Auronplay. The second most followed streamer creates content in Spanish about different games. Now over a 100 hours live, and almost 100 million views are really a sign, that people love to watch good streams no matter what language.
To illustrate this point the bronze medal goes to ibai, also a Spanish creator for Fortnite, LoL and many other games. This year he switched places with Auronplay and won the Esports Awards Streamer of the year.
Counterstrike legend Gaules placed second this year. Over the years the streamer made a journey from professional player to coach and now commentator. Because the fan base in Brazil is huge, his streams in Portuguese reach a lot of fans. He's also popular for combining his knowledge of the game and a fun attitude.
For the third year in a row xQc takes the number one spot! A few years ago he played Overwatch professionally, but he retired and now streams a variety of games with a focus at the moment on Minecraft and Call of Duty. At the 12th Streamy awards the streamer wan the Just Chatting Award this year.