A Polish streamer suffered an accident during his live stream of a motorcycle ride. After the crash, he received a lot of support from viewers, and from Twitch... a ban.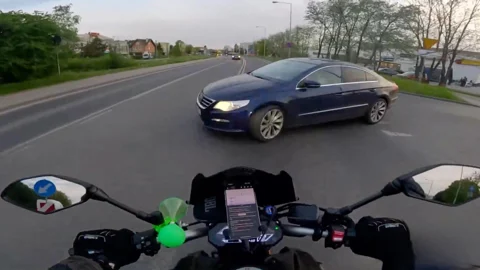 Accidents happen to almost everyone. Bans on Twitch are also becoming more frequent. Both of these situations befell a well-liked Polish streamer, who was unjustifiably banned from the platform for an accident that wasn't his fault.
Motorcycle Accident On Stream
On May 5, a streamer with the nickname xUlaniec crashed into a car that took the right of way. It all happened during a live broadcast:
In this situation, there was not much time to react, even though the man already had his hand on the brake. The motorcyclist flew over the car hood, fortunately it did not end as badly as it looked. Although we can "hear" his pain in the shot, he only ended up with an injured right leg.
If you also like to share your hobby, get yourself a GoPro! Without it, it would be hard for him to prove his innocence...
Twitch Bans Streamer For Motorcycle Accident Not At His Fault
While it seemed like the situation had a decent ending, Twitch ended up ruining it all. Twitch decided to ban xUlaniec, despite the fact that the accident was not his fault, and the analysis of the video concluded that he was driving within the speed limit.

Interestingly, according to Twitch, the incident itself was not the reason. The platform accused the streamer of uninvited sexual propositions and vulgar comments on the broadcast, which is a rather ridiculous abstraction. After the man appealed Twitch's decision, the ban was reduced by 3 days.
Twitch's restrictive policy to promote safe content is one thing, but unfounded banning is another, but it happens more often. Safe content is nice, but such as the above definitely teaches a lot too. We hope the streamer recovers soon!
This article contains affiliate links which are marked with [shopping symbol]. These links can provide a small commission for us under certain conditions. This never affects the products price for you.