Could there really be something to the tweet about the Taliban inviting Andrew Tate to Afghanistan? We've tried to solve the whole thing for you.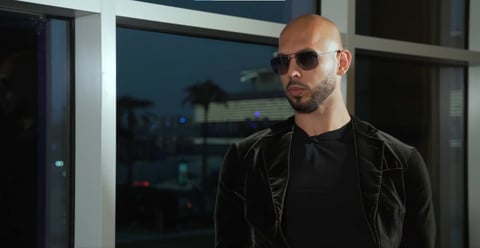 Andrew Tate, the influencer accused of human trafficking who is currently serving time in a Romanian jail, has been offered Afghan citizenship by a Twitter account claiming to represent the Taliban. They've also promised to protect him from associates of the Matrix if he does relocate to Afghanistan.

Taliban Invite Andrew Tate To Afghanistan, Promise To Protect Him From The Matrix
A Twitter account that claims to represent the Taliban has publically offered Tate a "masculine" Afghan passport. Once he's released from prison, he can relocate to Afghanistan, where they promise to protect him from being kidnapped by the notorious criminal organization known as the "Matrix" (no, this is not an April Fools article, this is life in 2023).
Here is the Tweet:

Once released, We intend to welcome the #Tate brothers to Afghanistan and make them honorary Afghan citizens. Our masculine passport will provide them with the best possible protection against kidnapping by #Matrix affiliated nations. #FreeTheTates #FreeTopGs #AndrewTate pic.twitter.com/1nKroNDngQ

— Taliban Public Relations Department, Commentary (@TalibanPRD) March 18, 2023
This announcement was supposedly made by the Taliban's public relations department on their Twitter account.

It's worth noting that the Taliban has previously expressed concerns for Tate's well-being back in January. However, given the serious criminal charges that he and his brother Tristan are facing, including allegations of human trafficking, rape, and involvement in a criminal organization, it remains to be seen whether they will actually be released from prison to take up the Taliban's offer.

It Was Inevitable! Tate's Manager on the Main Factor that Made Him Convert to Islam pic.twitter.com/SoLWRboNQR

— The Muslim Skeptic (@MuslimSkepticHQ) March 22, 2023
In 2022 Tate claimed that he had converted to Islam, despite being raised as a Christian. And on numerous occasions Tate has expressed his admiration for Islam and was seen carrying a Quran during his court appearance on January 10, 2023. So this story makes a little more sense than it might at first appear.

In a recent Twitter post, he also expressed his disappointment in spending his first Ramadan alone in prison. Along with his brother Tristan, Tate has been held in Romanian prison without charge for over ten weeks. The court has dismissed Tate's latest appeal, and he has been sentenced to an additional 30 days in jail.
Truly sad to see Andrew & Tristan Tate are going to spend their first Ramadan in jail, I was really praying that they would spend it with family & friends in the UAE.

May Allah make it easy on them, keep Andrew firm on the deen, and guide his brother. pic.twitter.com/1mX1QYeMq3

— Faris Al Hammadi (@FarisHammadi) March 22, 2023
It remains to be seen whether Tate will accept the Taliban's offer, and if so, what this could mean for his future and his relationship with the controversial group. Perhaps he will re-open Hustler's University in downtown Kabul, but we just don't know yet.