Recently, there have been rumors claiming that Andrew Tate might have a cancerous tumor in his lungs. Now the controversial influencer has released a statement via Twitter.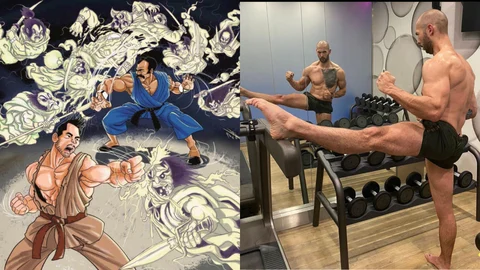 After rumors spread claiming that the popular and controversial influencer Andrew Tate was suffering from a cancerous tumor in his lungs, he has now released a statement on Twitter. In the Tweet, he claims that he will, in fact, be staying around for "at least 5000 more years".
Andrew Tate has been detained by the Romanian Government for a couple of months now, following his arrest in December 2022, with his appeals for release being denied multiple times. Despite the incarceration, he is still allowed access to his phone.
Wait you can already get Armored Core 6 for Xbox? Awesome!
Medical Documents Claim Tate Might Be Suffering From Lung Cancer

The rumors started when some medical documents surfaced online, referring to a lesion that had been spotted on the "right upper" portion of one of his lungs. Apparently, Tate was scheduled to travel to Dubai for medical care, before his arrest.
This topic gained even more traction, as Tate's manager seemingly confirmed that the controversial influencer was indeed suffering from lung cancer, as he "was the one driving him to and from the hospitals in Dubai".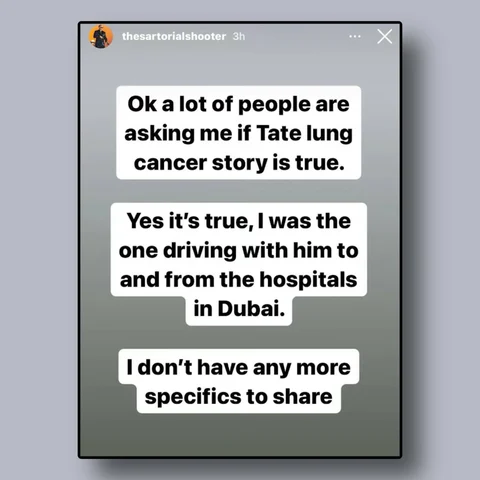 With this confirmation, fans of Tate were scared that the Romanian authorities might use this as an excuse to get rid of the controversial influencer. The most popular example being Adin Ross, who discussed the topic during a livestream and even uploaded it as a video on YouTube.
Ross really hammers home the idea that this might only be a cover-up story to get rid of Andrew Tate behind the scenes, saying: "I'm not even joking bro, they could be trying to kill him bro. This is bad, chat".
Apparently that was not the case, though, as Tate's manager posted an update in his Instagram, describing how Tate allegedly "did have the biopsy that Dubai specialists recommended", saying that the Romanian authorities wouldn't lie about this.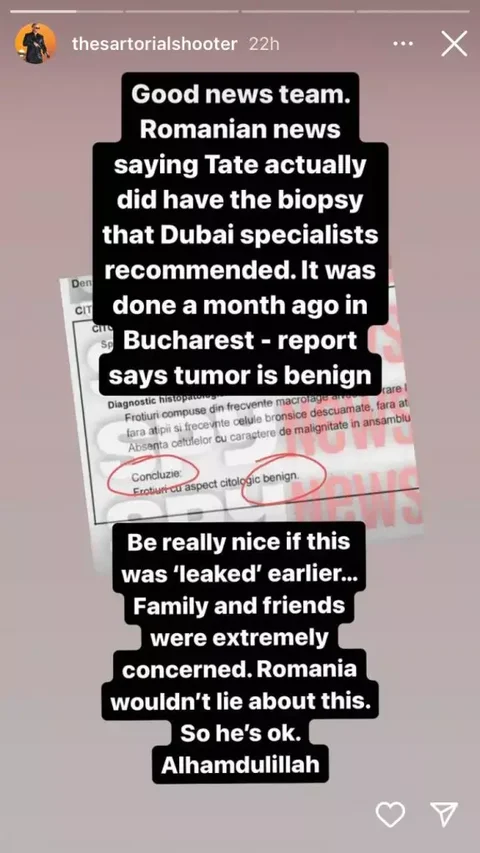 Andrew Tate Responds To Cancer Rumors
As for the Cobratate himself, he posted a response to the rumors on his Twitter, stating that his lung has "0 smoking damage" and how he has "8L lung capacity and the vital signs of an Olympic athlete".
I do not have cancer.

My lungs contain precisely 0 smoking damage.

In fact,

I have an 8L lung capacity and the vital signs of an Olympic athlete

There is nothing but a scar on my lung from an old battle.

True warriors are scarred both inside and out. pic.twitter.com/VpLHWp20Fg

— Andrew Tate (@Cobratate) March 4, 2023
Apparently there is nothing on his lung, except a scar from an "old battle", which he claims "doctors were extremely interested in", as "they do not understand how [he] survive[d] without treatment".

I had a regular checkup organized in Dubai pre-detention.

The doctors were extremely interested in the scar on my lung.

They do not understand how I survive without treatment.

They do not know the secrets of Wudan.

But this battle has long passed.https://t.co/YU5fH2NAtA pic.twitter.com/rUHxt46pow

— Andrew Tate (@Cobratate) March 4, 2023
All in all, it's the same old Andrew Tate show of him claiming he is some sort of supernatural being, fighting ghosts, living "for at least 5000 more years" you know, the usual.
This really begs the question if he actually believes all of this Wudan stuff. Maybe that explains his "old scar" on his lung?
This article contains affiliate links which are marked with [shopping symbol]. These links can provide a small commission for us under certain conditions. This never affects the products price for you.