KSI has taken a social media break after criticisms for his poor choice of language. He was recently caught using a racial slur in a sidemen video.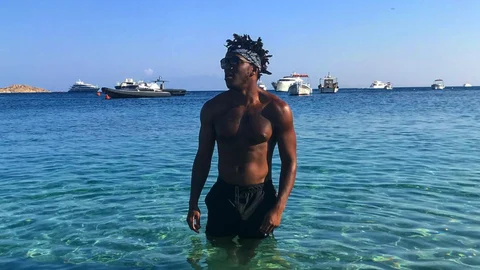 KSI, a popular content creator and member of the Sidemen group, recently came under fire for using a racial slur during a video. This caused a lot of outrage and disappointment among his fans and followers. Many took to social media to express their disapproval of the moment and demand an apology from KSI.
Acknowledging the gravity of the situation, KSI issued an apology for his actions and took responsibility for his mistake. He expressed remorse and regret for using the slur and acknowledged the hurt and offense it caused. Furthermore, he also announced that he would be taking a break from social media as a result of the incident.
KSI's decision to take a break from social media is understandable, given the magnitude of the backlash he received. It's important to take responsibility for one's actions and make amends where necessary. Hopefully, this incident serves as a reminder to all of us to be mindful of the language we use and the impact it can have on others.
KSI Takes Social Media Break After Racial Bomb In Sidemen Video
KSI has issued an apology for using a racial slur in a recent Sidemen video, acknowledging that there is no excuse for his actions and that he is sorry for what he said. He also emphasized that he is not perfect and will make mistakes in life. As a result, he has decided to take a break from social media for a while, although he has not specified how long the break will be or which platforms he will be stepping away from.
I wanna apologise for saying a racial slur in a recent Sidemen video. There's no excuse, no matter the circumstances, I shouldn't have said it and I'm sorry.

I've always said to my audience that they shouldn't worship me or put me on a pedestal because I'm human. Im not...

— ksi (@KSI) April 3, 2023
Umir, a football writer and content creator, expressed disappointment and dissatisfaction with KSI and the Sidemen team over the incident. Umir was a long-time fan of KSI but found it strange for him to use a certain word in the latest Sidemen video, even though it was bleeped and meant as a joke. Umir felt that other racial slurs would not be used in YouTube game shows as punchlines, and that this trivializes the use of the word and people's experiences.
Been a KSI fan for the longest but so weird for him to say 'paki' in the latest Sidemen vid even if they bleeped it & it was 'in jest' for content

Other racial slurs wouldn't be used as punchlines for YouTube gameshows. Just makes light of the word + certain people's experience.

— Umir (@umirf1) April 2, 2023
Umir also noted that the fact that the Sidemen team did not edit it out suggests they were okay with it, which minimizes the issue's significance. Umir believes that racial abuse towards Asians is taken less seriously most of the time. Following the backlash, KSI posted an apology on Twitter, and Umir announced their plans to take a break from social media for a while.