MrBeast is known for his wild videos and his insane spending on them. Did he take it a step too far this time around?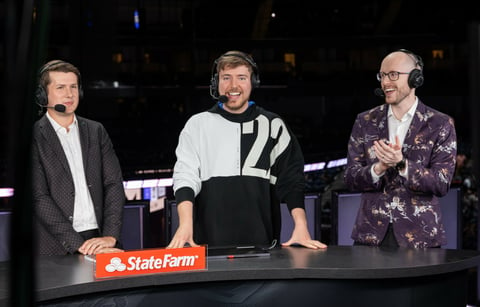 Jimmy "MrBeast" Donaldson has the most popular YouTube channel on the planet. He's accumulated billions of views and has built an entire empire at the mere age of 24. Recently, he released a video that didn't seem to hit the mark though.
Known for spending a good chunk of money for his videos and being a genuinely nice guy, MrBeast seemed to want to do something good, but many felt that his latest video in which he "cures blindness" was taking things too far.
Did MrBeast Go To Far In "Curing Blindness" YouTube Video?
On January 28, 2023 MrBeast released a video in which he paid for 1,000 people to get cataract removal surgery to cure their blindness. He explained that half the population with curable blindness did not have access to the surgery and therefore had to suffer in blindness.
Okay here are some great moments from MrBeast:
Well, while the video was meant to be a good deed, especially with MrBeast able to afford all these surgeries for multiple people from all over the world, it seems that many people did not feel like this video hit the mark.
One Twitter user stated that this is nothing more than "charity porn" while another felt that there was something extremely demonic about the video.
Popular Twitch streamer Hasan also chimed in, stating that he was upset with the American healthcare system and that it had to be a rich person who stepped in to help them get the surgery they needed to cure their blindness.
I don't understand why curable blindness is a thing. Why don't governments step in and help? Even if you're thinking purely from a financial standpoint it's hard to see how they don't roi on taxes from people being able to work again.

— MrBeast (@MrBeast) January 30, 2023
MrBeast has responded to the criticism on his Twitter, first questioning why curable blindness is even a thing and later even adressing the hate directly writing: "Twitter – Rich people should help others with their money. Me – Okay, I'll use my money to help people and I promise to give away all my money before I die. Every single penny. Twitter – MrBeast bad."
Whether you agree with the video, one thing is for sure that the people who got the surgery were given a gift. If it really had to be made into a YouTube video for entertainment purposes is another question to debate.
This article contains affiliate links which are marked with [shopping symbol]. These links can provide a small commission for us under certain conditions. This never affects the products price for you.