Rapper Slim Thug says he stays rich by not wearing "gay" clothes. Will his strange comments have consequences?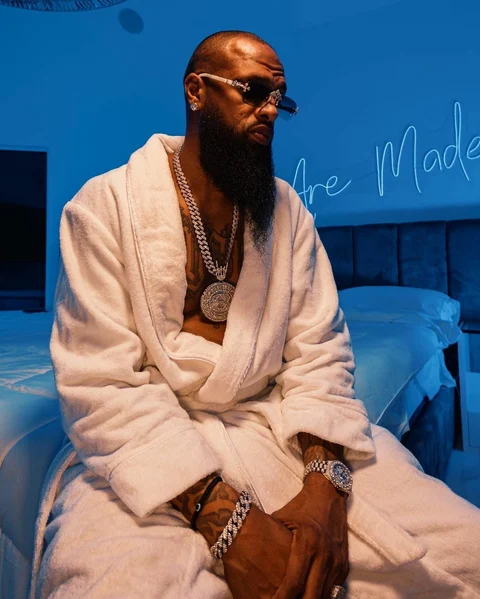 Slim Thug is a rapper and hip hop artist from Houston, Texas, who is known for his unique style and his advice on how to stay rich by avoiding spending sprees on expensive clothing. He has cautioned against rappers going broke by splurging on their wardrobe and has even admitted to wearing discount clothes in the club.
Despite his fashion choices, he has dropped millions on jewelry to keep up appearances. But with his statement about cheap clothes, has he now turned to retailers who support child labor?

Slim has spilled the beans on how to stay rich. And guess what? It's not by dropping mad cash on fancy clothes! No sir-ee, Slim's got no problem hitting up the discount rack for his threads, even if he's partying it up in the club.
Slim Thug Says He Stays Rich By Avoiding "Gay" Designers Clothes
He's calling out all those dudes who think they're ballin' by wearing the same pricey designer outfits. Slim's got a better idea, keepin' it playa for just pennies! And he's got the receipts to prove it. He showed off his latest outfit, which cost less than 20 bucks.
Slim Thug says he's stayed rich over the years by buying cheap clothes and not looking gay in designer clothes like other rappers pic.twitter.com/GEFvzphjtO

— Glock Topickz (@Glock_Topickz) March 16, 2023
Now, Slim's got some issues with high-priced clothes. According to him, all those designer shirts from Dior and Gucci make you look "gay".

Is the homophobic statement now threatening that he might be canceled from his fans?
He's warning all those rappers out there, to not go broke by splurging on your wardrobe. However, his fans are scratching their heads trying to figure out his message.