After going radio silent for six weeks, Atrioc made his return to Twitch updating fans on the situation.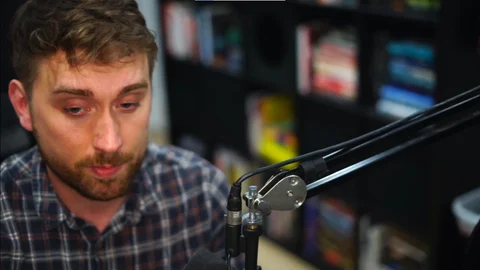 Atrioc, whose real name is Brandon Ewing, has returned to Twitch after a hiatus following a deepfake scandal. During a previous stream, Ewing inadvertently revealed that he visited a website that sold explicit, non-consensual deepfakes featuring other streamers.
Women whose likenesses appeared on the website were subjected to harassment and explicit images of their likenesses were circulated across the internet.
Several weeks after the deepfake porn controversy, Atrioc made his return to Twitch, providing fans with an update on how his fight against deepfakes of streamers is going.
Atrioc Updates Fans On Deepfake Progress
Earlier this year, Atrioc accidentally revealed to his stream, that he was paying for deepfakes of female streamers, some of which he knows personally and even is/was friends with.
In his recent stream, Ewing apologized and updated his audience on the actions he has been taking in the aftermath of the scandal.
He went live with a tearful apology, promising to redeem his mistakes. To do so, he said, he was going to step away from content creation to work with a law firm in an effort to take down deepfakes across the internet.
On March 14, Atrioc went live for the first time in six weeks, updating people on the situation.

He has been working with reporters, technologists, researchers, and women affected, and has wired $60,000 to Morrison Rothman, a law firm recommended to women affected by the deepfake scandal.
He would like to help other people who are affected by it and have been harmed.
The 31-year-old details how he has been working with different people to help the people who are affected by this and take down deepfake videos as well as websites.
Atrioc also learned that OnlyFans creators had made progress on fighting back against deepfake porn, and found that Ceartas, a company that uses AI to flag appearances of creator likenesses and file DMCA reports, was one of OnlyFans' safety partners.
He worked with Ceartas and reportedly delisted 512 items from Google. However, preventing deepfake images from being created and scrubbing them from the internet remains a difficult task.

The problem is, that the algorithm needs a lot of data and there is a lack of creators willing to help.
Atrioc then detailed how he is working with some big creators that were impacted by the deepfake situation, like Maya Higa, Pokimane & QTCinderella.
Apparently, Amouranth reached out to him as well, asking for help in taking down the fabricated content depicting her: "She had heard about the work I was doing somehow, and she asked if I could help her get stuff taken down."
Using the algorithm and the help from other creators, Atrioc was apparently able to shut down thousands of sites!

While he is still working on this, he explains how he is not going to stream consistently or provide regular content at all.
If you want a quick recap of what happened, we have a short explaining it right here:
This article contains affiliate links which are marked with [shopping symbol]. These links can provide a small commission for us under certain conditions. This never affects the products price for you.