After the Streamer Awards concluded, QTCinderella called out JustaMinx for her behavior, leaking dms between them.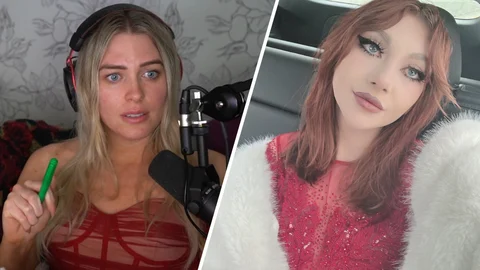 QTCinderella recently opened up about how JustaMinx cost her almost $50,000 by getting so drunk that security had to shut down the Streamer Awards after party. Apparently, Minx has been struggling with alcohol, which got so bad that she became completely unresponsive after smashing up the house.
The Streamer Awards have quickly become one if not the biggest event, celebrating the best livestreaming has to offer. During the event, planned out by QTCinderella, the biggest names of the industry, as well as some up-and-coming stars, get awarded for their accomplishments.
While the show this time around was great, just like last year, the after party had to be cancelled due to JustaMinx getting way too drunk and trashing the place.
QTCinderella Details How JustaMinx Cost Her $50K By Ruining The Streamer Awards After Party
After the event had ended, QT went public with the whole situation, explaining how she only allowed Minx to attend the Streamer Awards on the condition that she wouldn't drink. Minx agreed to this, as proven by DMs QTCinderella leaked later, but apparently didn't keep her promise.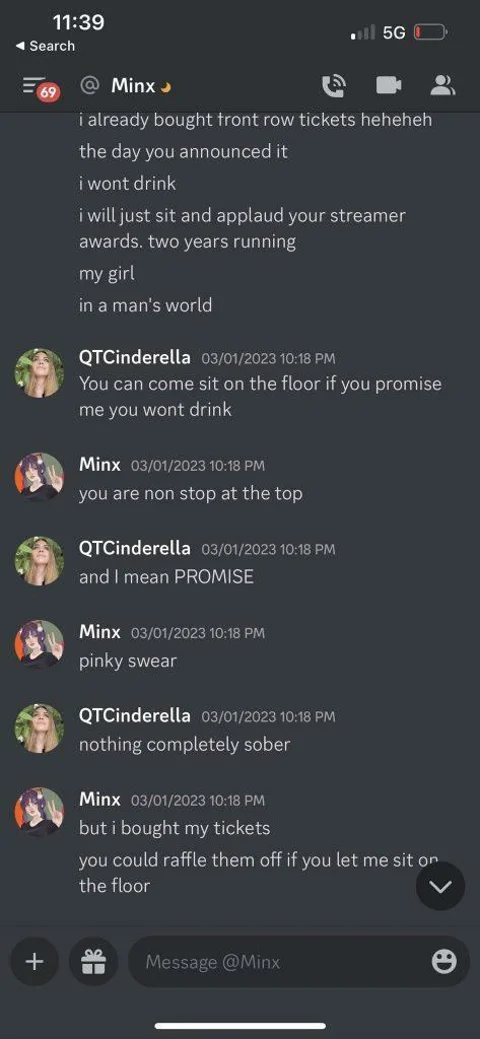 With regard to what happened, QT explained that shortly after she arrived at the venue of the after party, she was informed that Minx had to be removed from the party, which didn't go as planned:
So they went to remove her but instead of just calling an Uber and leaving, she refused to leave then decided to drop down and no longer walk, becoming a deadweight and hitting her head.
The day after the incident had happened, Minx tweeted on her alt account, claiming that she had a seizure and was still struggling to regain her memories.
In a follow-up tweet, she then went on to explain that she thought drinking at the after party was okay, which prompted QTCinderella to call her out on this.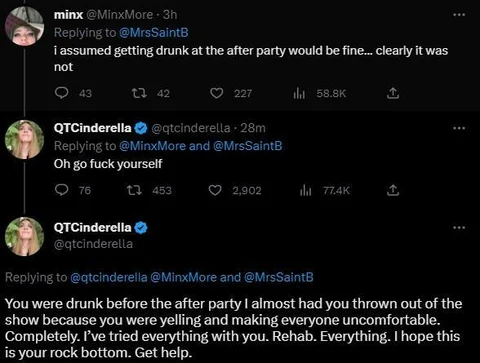 According to this, Minx lied about only starting to drink at the after party, already showing problematic behavior during the awards how. This was also the time QT leaked the Discord dms, where Minx promised not to drink at the event.
Minx again argued that she was having a seizure after being pushed over, but in the comments people quickly pointed out, that normally people having seizures don't get restrained in a hospital.
for the people commenting that i'm making up my epilepsy for an excuse, I can guarantee that I had a seizure when I was pushed over

i slept all day yesterday when I got home from the hospital

its obviously not an excuse for ruining the party but im not lying about my epilepsy- pic.twitter.com/fgfUWExm14

— minx (@MinxMore) March 13, 2023
This again is very different from the way QT described the situation, which she further affirmed in a response, saying: "Minx, you did not have a seizure, I was there the entire time. Also, no one pushed you. You're just lying. This picture is from you getting liquids at the ER."
Minx did not respond to this any further, but appeared to call QT a "dumb bitch" in a tweet announcing her stream on Kick. During the broadcast, she admitted that she shouldn't have been drinking, but still insisted on the fact that she did have a seizure.
As a sort of closing statement, Minx explained that she will return to Ireland to get treatment for her seizures and is willing to pay the expenses for the after party.

Im not sure what I can do to make this better. I'll pay for the party cost. I understand I've broken peoples trust and I understand why people want to attack me rn but please say what I can do to fix it rather than dog pile. Im sorry

— minx (@MinxMore) March 13, 2023
It looks like JustaMinx might have permanently lost QTCinderella as a friend, though, as in her statement on why she went public with the whole situation, QT seems like she resolved herself to move on.
In her explanation, she goes into a little more detail on the struggles she went through with Minx, emphasizing that this was not simply about her getting drunk. The way QT addresses the situation, it becomes clear that Minx is suffering from an alcohol addiction but refuses help.

It seems like at this point, QT can't take it anymore, but we're waiting for a definite statement from both streamers. So far, all we know is that their friendship has greatly suffered from Minx's addiction.
Soon after going public with this, though, QTCinderella voiced her regret for doing so, mainly referring to the issue of harassment the people involved often face afterwards.
Promise I'm working on myself. This is my year
(happy st paddys day)

— minx (@JustaMinx) March 18, 2023
The very same day, Minx responded to QT's tweet, promising to work on herself. Maybe the two of them worked it out somehow, but it seems like at least they are on friendlier terms than they were when the whole thing blew up.

If you are suffering from an alcohol addiction or know somebody that does, please get help. Addiction can not only destroy the life of the person afflicted, but also impacts the relationships between people. The first step is to accept that you have a problem, something it seems like Minx can't do. Once you accept that you have a problem, there are institutions that can help you!
This article contains affiliate links which are marked with [shopping symbol]. These links can provide a small commission for us under certain conditions. This never affects the products price for you.