The Chronicles of Narnia will get a remake, with Greta Gerwig directing the project. So far there's no release date, but here's everything we know so far.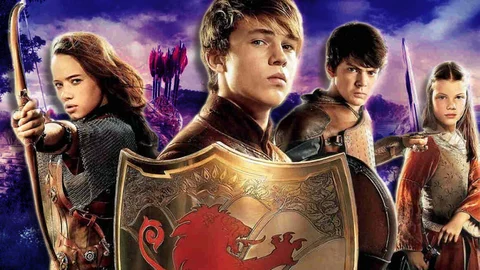 Greta Gerwig found a lot of success with the Barbie movie, so obviously people are looking forward to her future projects. Apparently, she will be directing a remake of the Chronicles of Narnia and boy am I ready!
"The Chronicles of Narnia" is a seven-book series, written by C.S. Lewis. The books portray a magical realm accessed through a wardrobe (which probably had many kids check their wardrobes for gateways to a mystical realm).

The series, featuring talking animals, mythical creatures, and witchcraft & revolves around four children who play central roles in shaping Narnia's history. Now this fantastical story will get a remake at the hands of Greta Gerwig, and people are excited to say the least.
The Chronicles Of Narnia Got Greta Gerwig Sweating
On July 2, 2023, it was confirmed that Greta Gerwig will be directing two The Chronicles of Narnia movies for Netflix.
Netflix acquired the rights to the franchise back in 2018, but has since not really done anything with the intellectual property. Now, with the end of her most recent project, Gerwig finally dropped some news on the Narnia remake.
Despite her recent success, it seems like Greta Gerwig is still a little anxious about directing the Narnia movies, as she stated in an interview with Total Film.
I haven't even really started wrapping my arms around it. But I'm properly scared of it, which feels like a good place to start. I think when I'm scared, it's always a good sign. Maybe when I stop being scared, it'll be like, 'Okay. Maybe I shouldn't do that one.' No, I'm terrified of it. It's extraordinary. And so we'll see, I don't know.
Looking at how big the Narnia franchise is, despite there only being like 3 movies, this anxiousness is probably warranted.

Still, this remake is a great chance to explore the world of Narnia once more, directed at the capable hands of Greta Gerwig, but with how cautiously the director seems to approach the project it will be a while before there will be any major news to report, like the cast, or a possible release date.
The Chronicles Of Narnia Remake: Plot
With the Netflix adaptation being considered a remake, it is highly likely that we will revisit the first two books for the two movies Gerwig will direct.

That means we have a pretty good idea what the plot for those movies might be (granted there will probably be some creative freedom and changes applied as well).
The first movie will probably adapt, "The Lion, the Witch, and the Wardrobe" and introduce us to the Pevensie siblings – Peter, Susan, Edmund, and Lucy – once more, as they stumble upon the magical world of Narnia through a wardrobe.
At that time, Narnia is under the tyrannical rule of the White Witch, who has cast it into eternal winter, so the movie will probably revolve around their fight to free Narnia from the Witch's reign, fighting alongside the mighty lion, Aslan.

In the second movie, we will probably see the return of "Prince Caspian," as the siblings make their way to Narnia once more, finding centuries have passed. They aid Prince Caspian, rightful heir to the throne, in overthrowing his evil uncle Miraz.
If Gerwig decides to play things by the books, this will be the plot for the Narnia remake, but so far nothing has been confirmed.
Hollywood is actually on fire right now, and not only because of the strike going on. It looks like a Zelda movie might actually happen:
This article contains affiliate links which are marked with [shopping symbol]. These links can provide a small commission for us under certain conditions. This never affects the products price for you.