Jake Paul and Mike Tyson are in talks, but will they actually take a plunge into the arena?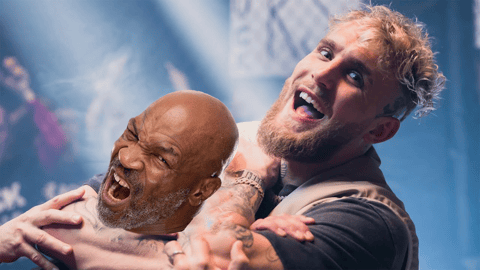 "Iron" Mike Tyson and good ol' Jake Paul might be jumping into the ring together, and we don't mean to play the world's most bizarre game of hoola-hoops, we mean to beat the living daylights out of each other.
Now, none of this is confirmed (few things ever are, when it comes to the Paul brothers), but it is rumored that good ol' Mike Tyson is looking for more than $50 Million USD for the fight. That's a whole lot of dough, and it ain't for making donuts.
[Update: May 17, 2022]
Mike Tyson Won't Fight Jake Paul
Jake Paul's boxing partner Anthony Taylor does not think that a Paul vs. Tyson fight is likely to happen. According to Taylor, the fight is very unlikely due to the mutual respect shared between the duo. They're friends, so he doesn't see them coming to blows in the boxing ring.
I really don't see Jake Paul and Mike Tyson fighting just because they're very good friends. They have too much mutual respect between them to be involved in having a fight... Maybe I'm missing something, maybe they are going to fight, but I just don't really see Mike going in there any time soon with Jake, I would be surprised.
The statement came in an interview Taylor gave with MyBettingSites where he also championed the possibility of a Saul "Canelo" Alvarez vs. Jake Paul fight. It seems like that match up is quite likely, whilst a fight between "Iron" Mike and Paul is very unlikely.
[Original Article]
One thing to talk about is the latest few developments in the whole Jake Paul x Mike Tyson debate is Tyson's decision to slam Mr. Paul during a recent podcast appearance. Seriously, this bald-bugger gave Jakey-boy so much s**t that he'd drown if he was sittin' in a bathtub.
"Blue eyes, blonde hair, that s**t is very expensive. We gotta get some more money."
Many are claiming that Tyson's request for more money is a bit outrageous, but if you ask me: totally fair. Why? Well, that would be simply based on my own deep-seated prejudices against the Paul brothers.
So Is Mike Tyson Going To Fight Jake Paul?
Who knows, man, it seems pretty unlikely if you ask me. Ultimately, Mike Tyson is an absolute beast in the world of martial arts, do you really think he wants to waste his time with the Paul brothers? To be fair, I don't really know anything about MMA or WWE or... whatever other punchy-punch sports there are in the world.
That being said, though, Tyson has previously said that "anything is possible", alluding to possible charities that could do well from such a match-up. That doesn't mean that these shenanigans are going to go forward. Instead, it does put into question the boxing legend's desire for more money.
If there's anything we can learn from this minute possibility, though, it's that boxing champions and the Paul brothers are increasingly coming together. It might not be quite "Come Together" that we want (we'll keep the Beatles references to a minimum, but we could hardly resist that li'l nugget), but could it be the "Come Together" that we need? Yet again, I dunno man, it seems like a stretch.