xQc's dad made a surprise appearance on stream to choose his favorite female streamer, going full-on thirst mode.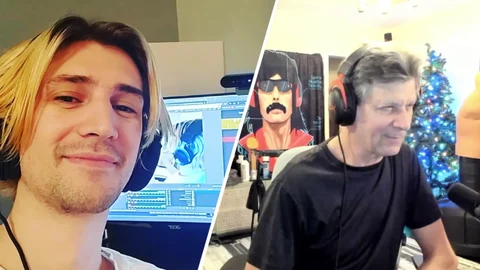 In a recent stream, xQc's dad made an unexpected appearance and participated in a bracket game called "top female streamers world cup," where players choose their favorite female streamer until only one is left standing. The stream segment was described as "unhinged" by viewers, who are no strangers to xQc's wacky antics on stream.
xQc left the desk for a bit, only to come back with an extra chair and introduce his dad as a surprise guest. The old man stuck around for the whole segment, much to xQc's embarrassment...

xQc's Dad Went Full-On Thirst Mode And Picked His Fave Female Streamer
Papa xQc was tasked with the "top female streamers world cup," where he had to choose his favorite streamer until there was only one left standing. xQc was feeling all the emotions as his dad picked his favorites, some of whom he even knows personally. From embarrassment to shock, he was all over the place!
xQc's agreed with his dad's pick of Sasha Grey because of her "attitude." Interestingly, Papa xQc immediately picked Amouranth as his favorite when given the option, and when xQc asked why, his dad replied, "for a thousand reasons!"
The bracket game eventually came down to a "grand final" between Amouranth and Pokimane, two of the most popular female streamers on Twitch. Pokimane won, and the reason given was that she is a fellow Canadian, like xQc.
Reddit viewers labeled the stream segment as "insane" and "unhinged," with one commenter noting that "doing this s*** with your dad on stream" was particularly unhinged. Another Redditor humorously referred to xQc as the "least horny Quebecois."