FaZe Banks has called out the clan's corporate leadership for driving the brand into the ground, asking for them to hand control back to the creators.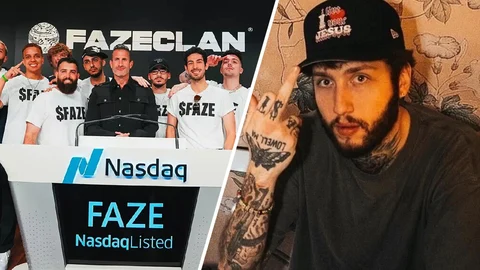 After FaZe Clan pretty much bombed their stocks and got called out multiple times by some of their OG creators, it seems like things might start to be going into the right direction. They released a statement, saying they want to return to their roots, but things aren't gonna be that easy.

This became apparent when Richard "Banks"Bengtson, one of the top dogs in the org, lashed out at the "corporate fucks" who are apparently weighing their options right now.
FaZe Banks Demands Back The Brand Corporate Leadership Stole From Them
On April 15, FaZe Banks took to Twitter, calling out the corporate leadership controlling their brand at the moment.

It has been revealed quite some time ago, that the original members of FaZe didn't really have a lot of control over their brand anymore, having been replaced by older business guys.

According to Banks, the directors board at FaZe Clan pretty much stole their shares and took control of the brand, replacing the creators.
Now Bengtson is lashing out at those "corporate fucks", demanding they return the brand, before they completely ruin it.
Idk what all these corporate fucks think they're doing, weighing options. Plotting. Doing whatever the fuck it is they've been doing, but the answer is very simple. Give us our brand back, you stole it in the first place. It goes to zero otherwise. You have no idea what FaZe is.

— FaZe Banks (@Banks) April 15, 2023
Fellow long-time member Teeqo, who was one of the main contributors to shedding light on the issues of FaZe Clan, showed his support for Banks' statement.
In the comments of his tweet, Banks claims that his "shares were stolen very early in FaZe Clans development" and that they didn't even hire the people that are now in control. They must have wiggled their way in there somehow, taking over the org and outplaying the creators.
Now FaZe Banks, Teeqo, Rain and more are demanding back their brand but it seems the corporate leadership isn't going down without a fight, "weighing options. Plotting. Doing whatever the fuck it is they've been doing".
Things look like they will stay interesting, and we're here for it.
For those of you missing the old Modern Warfare 2 days, CoD brought back an absolute classic (and it one-shots in Warzone 2.0 as well):
This article contains affiliate links which are marked with [shopping symbol]. These links can provide a small commission for us under certain conditions. This never affects the products price for you.