Trouble with the police instead of performing on the pitch. We show you football players who may soon no longer be part of FIFA Ultimate Team. Last season, Mason Greenwood and Marc Overmars were removed, among others. In FIFA 23, Dani Alves could be the next superstar who gets banned.
Every year, there are players who are part of the game when FIFA launches and get removed as the season progresses.
Here we show you players who can no longer be found in FIFA 23 Ultimate Team – and those who may soon be removed.


Dani Alves In Custody After Alleged Sexual Assault – Hardly Any Consequences In FUT
Times, they are changing. We're almost at a point where you're no longer shocked bur rather simply disappointed, when it turns out that a professional soccer player has done something unspeakable. Another former superstar is making the headlines these days.

We are talking about Dani Alves, who is in custody in Barcelona. The allegations intensify. Alves is said to have committed sexual assault, and the evidence continues to mount.

EA only partially responded at first, changing his dynamic World Cup Stories image back to a normal one. Well, that is kinda not enough at all, EA. Should the allegations be confirmed, or should Alves lose the trial due to the overwhelming evidence, he should be banned from FUT asap.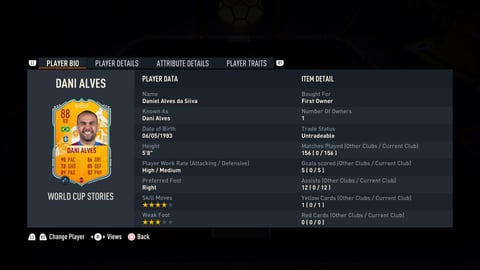 Alves is still the player with the most titles in history, and he would have rightly been among legendary new FUT Icons in the future. Instead, he destroys his legacy just like that.
Certainly wasn't worth it.
FUT Icons – What Could Messi, Ronaldo And Others Look Like?

View gallery
Mason Greenwood Arrested – EA Removes Him From FIFA 22
Mason Greenwood is suspected of sexually abusing his (former) girlfriend. His club Manchester United suspended him and kit supplier Nike ended their collaboration with the 20-year-old, EA Sports has reacted afterward and removed Greenwood from FIFA.
That already happened in FIFA 22, he was not in FUT or other modes from this year's version.
His trial begins in November 2023. He will have to defend himself in court on charges of attempted rape, intentional bodily harm and coercion.


Sexism Scandal At Ajax: Marc Overmars Excluded From FUT Icons
He was an outstanding footballer, but as we know, that doesn't protect you from being a jerk. The (now) former football director of Ajax Amsterdam resigned after it was revealed that he "sent a series of inappropriate messages to several female colleagues over an extended period of time." Ajax announced this in an official statement.

Meanwhile, he came up with phrases like "I'm ashamed" or "I didn't realize that I've crossed a line" (typical examples of toxic masculinity). Nice try, but firing him is the right thing to do for the club.

EA initially reacted in FIFA 22 and has now removed Overmars from the FUT Icons.
Sigurdsson With Forced Retirement – ​​Not Included In FUT 23

The story of the former Premier League star is terrible. The 31-year-old is suspected of molesting children and has logically been suspended by Everton FC.

He will probably never set foot on a soccer field again – whether in real life or in FIFA.

What Does "Prison FC" Mean In FIFA?
The community (especially on Reddit) is jokingly saying that so many professionals are on trial that it is almost enough to create a whole squad.

Of course, the allegations against the stars are not funny – but our sympathy for the blasé multimillionaires (and that's putting it mildly) is limited. So, Prison FC includes players who are either already removed in Ultimate Team, or who could be kicked out soon.

Either way, EA should react and closely monitor the incidents and court hearings. Because among them are cases that are not funny at all and if the allegations are confirmed, these players should no longer be in a sports game (which we all play mainly for fun).
Prison FC Full XI (4-3-3) from fifacardcreators