EA has released 5 new league SBCs for us in FIFA 23, one for each of the big European leagues. We take a closer look at the SBCs and tell you which ones you should complete to increase your chance of packing a TOTY.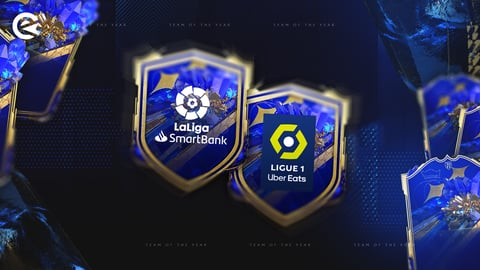 EA isn't exactly holding back right now when it comes to SBCs. New ones are constantly added, sometimes they're great, sometimes not so much. Now EA gives us an SBC for each of the big 5 leagues in Europe, and we will show you which of them you should complete.

League SBCs in FIFA 23: Which Ones You Should Complete For A TOTY
Hopefully you've already packed a Team of the Year player. If not, you'll definitely want to hear from us that this SBC guarantees you one. But we do have to disappoint you: the League Upgrade SBC doesn't guarantee you a TOTY by any means. However, if you complete the right ones, it will at least increase your chances.
In this case, there's a right and a wrong. First, make sure you focus on the Premium Leagues SBCs. You'll get 8 players, and three of them are Rare Gold Players. Don't bother with those normal upgrades and only complete premium upgrades. And most importantly, make sure you only invest in the right leagues!
The Bundesliga and Serie A upgrade SBCs are not very useful. By the way, all SBCs cost 8,000 coins (provided you buy all players) and include only players of the respective league. Requirements for the SBCs are simply 11 Rare Gold Players.

Invest In The Premier League, La Liga And Ligue 1
You only want to focus on the La Liga, Premier League and Ligue 1 SBC. There is a very simple reason for this: they got the most TOTY players. To increase your chances on packing a TOTY, you need to complete these three SBCs.
@FUTSPY shows the odds on Twitter:


This is your TOTY upgrade pack grind.

Here is everything on offer!

May the odds be in your favour. #TOTY #FIFA23 #FUT pic.twitter.com/KSwYTmfDbX

— FUTSPY #FIFA23 (@FUTSPY) January 27, 2023
Ligue 1 is simply a game of poker because it doesn't have many TOTYs, but it does have Lionel Messi and Kylian Mbappé.
With Erling Haaland, the 12th man is also known by now. By the way, if you're not among the few lucky ones who pack Mbappé, you can check out the POTM Mbappé SBC.

You exchange 11 gold players for 8 from one league with these league SBCs. It's definitely not the best of all deals, but it can be worth it. Don't open them until the entire Team of the Year is in the packs, and exchange your gold fodder for the chance of a TOTY.

This article contains affiliate links which are marked with [shopping symbol]. These links can provide a small commission for us under certain conditions. This never affects the products price for you.