The new Ronaldinho SBC is live in FIFA 23. We can get his Prime Icon with 94 OVR. The problem: no, we can't.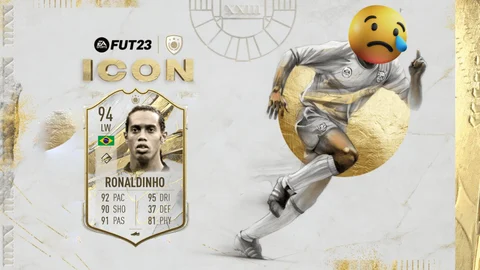 The wait is over: FIFA 23 has its Ronaldinho SBC in FUT. We can get the Prime Dinho now and only have to submit 346983476 teams, sell our liver and firstborn and spend 864 million coins – easy.
Ok, ok: baby calm down, calm down. We actually have to submit 23 teams, or spend 4.6 million coins if we would buy the complete fodder right now. But here is why this is a problem.
Ronaldinho SBC: Way Too Expensive For This Time Around In FIFA 23
It was quite clear after the first leaks that R10 won't be cheap. Whenever he gets his Squad Building Challenge, the community is excited to finally be able to play with one of the best Icons inthegame.
But we expected something else, EA. After they released a ton of Icon SBCs this year and have more different versions than ever (World Cup, TOTY, FUT Birthday, Trophy Titans Icons) we were quite sure they make Ronaldinho affordable – or at least reasonable for this stage of the game. But to sum it up quickly:
wtf is that R10 SBC lmao

— Fut Sheriff (@FutSheriff) May 19, 2023
Ronaldinho SBC In FIFA 23: Do Not Complete
Now, as we said, it was quite clear that there were no chances that he ends up among cheap OP Icons in FIFA 23. But is he worth this amount of coins or fodder this season? As we experienced and also as we read and heard, he is absolutely not.
You can't compare him to former years, where he asw still outstanding in May or June. This year, thanks to so many Icons we mentioned and a ton of campaigns, he can't keep up with the power curve in FUT.
FUT real talk:

Prime Dinho isn't elite in game

He's as good as it gets for nostalgia but if you are expecting some insane card actually worth millions of coins of fodder...you'll be disappointed

— Piquelme (@Piquelme21) May 18, 2023
So, if you expect to get yourself a meta god on the wings that will make your squad stronger, we can't recommend this SBC. Which is really sad, everybody loves him and wants to have him in his FUT squad, we don't even need to explain why.
And don't get us wrong: he is still somewhat amazing because he feels different thanks to his player model. But the SBC should have been 16... maybe 18 teams total. By the time most of us have completed this SBC, The Team of the Season promo will be almost over and our teams will be stacked with Moments and other (random) players that are simply better than this legend.
Tl;dr: If you complete him this year, you will be disappointed by the amount of fodder or coins you had to spend. Sad.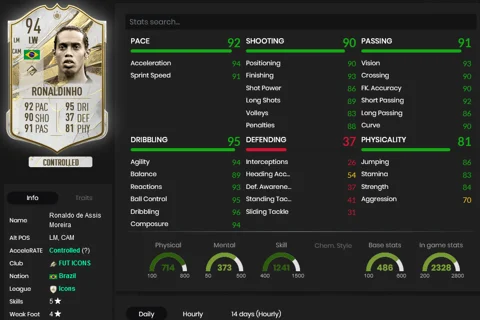 This article contains affiliate links which are marked with [shopping symbol]. These links can provide a small commission for us under certain conditions. This never affects the products price for you.