Before the Team of the Season starts in FIFA 23, the TOTS Warm Up Series is coming to FUT. You can find out all leaks about SBCs, Objectives and whatever else awaits you here with us. Hold on tight because this is gonna to blow your mind.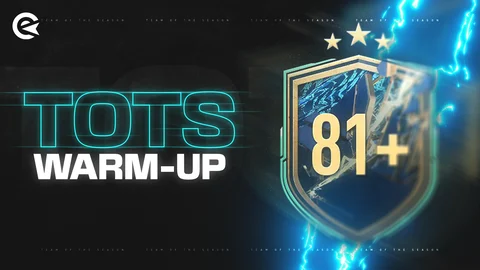 The TOTS event in FIFA 23 is about to start. To shorten the waiting time, the TOTS Warm Up series will prepare us for Team of the Season.
There will be plenty of packs, SBCs and daily login bonuses – we show you, which leaks are making the rounds already. Best thing you can do: don't open too many packs forthe Community TOTS next Friday, but save them for the TOTS of your favorite league.
TOTS Warm Up Series In FIFA 23: Release Date
The TOTS Warm Up series will probably start on Friday, April 21, 2023 – as always at 6 pm GMT. That's what the first leaks say – and we already know what to expect. As usual, we'll be able to complete Squad Building Challenges and complete Objectives to accumulate more and more packs.
TOTS Warmup Series is coming this weekend!#fifa23

— Fut Sheriff (@FutSheriff) April 19, 2023
TOTS Warm Up Series: Leaks Show Upgrade Packs, SBCs, Daily Login Bonus & League Challenges
This is really awesome! 11x 81+ Leagues Upgrade Packs. Now, if that doesn't sound tempting? It should be possible to pull a TOTS, right?! And these awesome Upgrade Packs will probably be available in FUT from Friday, April 21st, 2023.

So, FUTSheriff "confirmed the Warm Up series – but what can we expect in detail? Data miners already found new packs in the source code. Besides that, there will be:
81+ x11 Upgrade Packs (different Leagues)
League Challenges
Daily Login Upgrades
NEW PACKS ADDED pic.twitter.com/699yq4rEuh

— Fut Scoreboard (@Fut_scoreboard) April 20, 2023
But what can we expect in detail? We present two possible ways EA Sports could bring their Upgrade Packs to the FIFA community.
1st Option: 11×81+ League Upgrade Packs in SBCs
Imagine if you could craft 11×81+ Leagues Upgrade Pack as SBC. Almost too good to be true. What requirements such SBCs would have, how expensive they would be, is of course still a bit speculative at the moment. We assume that such SBCs would require teams with an 83, 84 or even 85 rating.
It is also conceivable that the Upgrade Packs SBC will have different requirements depending on the league. Should such league upgrade SBCs actually come, activity on the FUT Transfer Market could increase significantly again.
On the one hand, the SBCs will make 83, 84, and 85 rated players extremely desirable. This would also mean that the recently low prices for 83 and 84 players would rise again. On the other hand, many FIFA 23 players would certainly be willing to open the packs they have already saved for the TOTS to get fodder for the League Upgrade SBCs. Unnecessary high rated fodder, players rated 86+, might be cheap to acquire as FIFA gamers need coins for League Upgrade SBCs.
So, as well-intentioned advice: Fill up your transfer list with at least 83 or 84 rated players and watch the prices on the FUT transfer market.
2nd Option: 11×81+ League Upgrades As Objectives
The more time-consuming but significantly cheaper option would be to add the League Upgrade Packs to FUT as Objectives. Casual players in particular could benefit from this, as their club and coin account are not so bulging. We think it's possible that the League Upgrade Packs can be unlocked in the Live FUT Friendly "Managerial Masterpiece". This mode has always been predestined to earn league-specific special cards or packs.
We would advise you to prove if you can create teams from the European Top Leagues with players from your club. In the past, you always required a certain number of first owner cards to complete the Objectives.
FIFA 23 TOTS Warm Up Series: Daily Login SBCs
We think there's more to come during the TOTS Warm Up Series. In addition to the Upgrade Packs that have been leaked, it is also worth taking time for FIFA 23, at least a few minutes every day. Because you'll probably also have Daily Login SBCs waiting for you.
In these, you can not only earn smaller Upgrade Packs after completion, but also get extra rewards. The more times you complete such a Daily Login SBC, the better your extra rewards will be. If you keep at it, you can also expect a 5×85+ Upgrade Pack or something similar at the end of the TOTS Warm Up Series.
Eredivisie TOTS is starting on 28th of April

Warmup starts this week, including
many objectives(Warm Up Cup and more)
SBCs(81x11 from top 5 leagues)
daily login stuff
& many more

Hype
.#fifa23 pic.twitter.com/a0NKzBlMVt

— FifaTradingRomania (@fifa_romania) April 19, 2023
FUT TOTS Warm Up: Icon- and Hero-SBCs
We recommend that you save your crafted or earned packs for the TOTS. But if you can't stand it, it's best to use your fodder for the new Bonucci SBC right away. If not, then EA Sports will certainly give you the opportunity to use your drawn fodder elsewhere.
Icon SBCs that guarantee icons with a rating of 90+ have been available on a weekly basis for some time now. But the Hero-SBCs are at least as important and can be completed almost weekly.
In order to empty the clubs and the coin accounts of the FUT players, there will certainly be more Icon- and Hero-SBCs waiting for you, which may be repeatable. If that's the case, you can try your luck several times. We wish you lots of Packluck, both during the Warm Up series and during the TOTS period.
As soon as there is more news about the FIFA 23 TOTS Warm Up Series, you will find out from us. We already have a few things ready for the future of the new FIFA:
This article contains affiliate links which are marked with [shopping symbol]. These links can provide a small commission for us under certain conditions. This never affects the products price for you.