In FIFA 23, Ultimate Team remains the most popular mode. That's why we look for the strongest FUT team. Of course this is just something to dream about, but it's Christmas Season, so let's dream.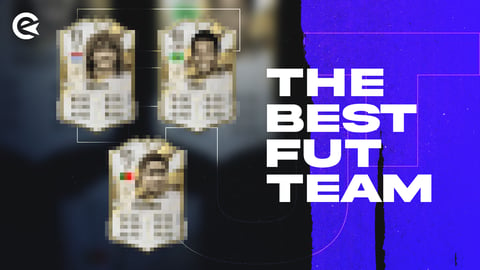 The Christmas season is the time of wishes. And we wish you the best FUT team. Of course, it is currently unrealistic to build such a completely crazy team, but maybe we will make it by the end of the season. For this selecion, you would need a lot of coins. You can either play lots of games, or you can get there with trading. If you already have enough coins, we'll show you the best FUT Team further down below.
But, in addition to Ultimate Team, the kick-off mode still remains popular. There you can play with your friends and see who's the better player in FIFA 23. In order to kick their butts, you'll need to know which club you should play with. So which club is the best in FIFA 23 this year? We'll tell you that in this article as well.
The Best Club In FIFA 23
We've had an incredible transfer summer and so there are again many clubs for FIFA 23 that have outstanding players in their teams. Bayern got Mané, Manchester City bought Haaland, Messi, Neymar and Mbappé are PSG's top players, but Barca's team should also not be underestimated with Lewandowski, Dembélé and Co. So which is the best club in FIFA 23?
Kick-Off Mode & Online Seasons: PSG And Bayern Are The Best Clubs
We currently see Paris Saint-Germain in first place. As already mentioned, Messi, Neymar and Mbappé are just too good in the offense. With Mbappé you even have the best player in FIFA 23 in your team. So if you really want to achieve success against your friends in the Kick-off mode or in the Online Seasons, choose the French champion.
In addition to the furious offense, PSG has an all-rounder in midfield with Renato Sanches and the defense is absolutely world class with Marquinhos, Presnel Kimpembe, Nuno Mendes and Achraf Hakimi.
However, do not underestimate Bayern Munich. The German champion may not have a "real" striker, but that's what makes them so strong. With Bayern you can perfectly play a 4-2-2-2 system and with Mané and Gnabry you have two really nice strikers up front. Sané and Coman are the wing players and Goretzka and Kimmich keep the center locked down. Oh yes, and the defense is also outstanding, with Matthijs de Ligt, Lucas Hernandez, Alphonso Davies and Noussair Mazraoui.
The Best FUT Team In FIFA 23
Now we come to the most popular mode in FIFA 23 with Ultimate Team. And to the most important thing: Which eleven players form the best FUT team in FIFA 23? We sat down and built the best Ultimate Team.
Featuring R9 and Mbappé: Best FUT Team In FIFA 23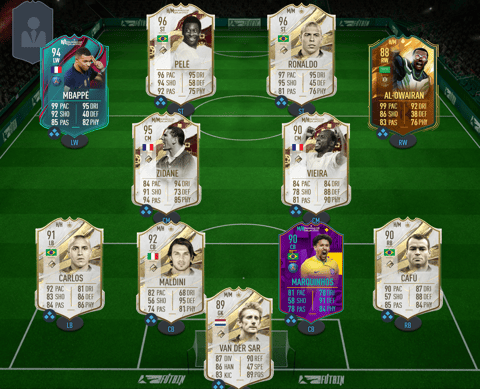 This team is simply crazy! But also crazy expensive... Well, we're gonna show it to you anyway.

The team currently costs around 27,000,000 coins, and it's packed with the new World Cup Icons. Once the normal Icons get their WC versions, you could obviously go ahead and upgrade these.

In goal, we have Edwin van der Sar, who has probably been the best goalkeeper in the game for a couple of years now – we don't have to say much about him!

The defense is made up of the Icons Roberto Carlos, Paolo Maldini and Cafu. The last one also has a World Cup Icon, by the way, but you have to unlock it in the World Cup Swaps. We'll explain later why we decided to not pick him. The fourth defender is Marquinhos!



Your midfield also consists of two WC Icons. The more offensive part is covered by the 95-rated Zinedine Zidane. His more defensive counterpart is Patrick Vieira. He is also the reason, we chose the normal version of Cafu, because both are only unlockable through the WC Swaps SBCs. However, there aren't enough tokens to get both of them.

Put on your seatbelt, because we're now looking at the offense! On the right, we have the fastest player in the game: Saeed Al-Owairan. In the center, the two Brazilians Pelé and Ronaldo will cause trouble and on the left, you have the WC Team Of The Tournament of Kylian Mbappé. Obviously, you can switch positions between those four – with these stats, this definitely isn't a problem.
If you don't want to rage in the Weekend League, here are some cozy Winter Games:
The "Cheap" Alternative
One thing is for sure, this team still isn't cheap. But it's definitely more realistic that you are able to afford this team at some point in FIFA 23. Now, this team still costs around 7.5 million coins.
In goal, we directly see that we're saving coins here. Mike Maignan should do his job anyway.
In your defense, you can rely on two Real Madrid defenders. Daniel Carvajal and Antonio Rüdiger are really strong cards. The other side consists of two World Cup Heroes. Your opponents will be facing Capdevila and Lucio!

In midfield, we have the good old Patrick Vieira. We also included him here, because you can unlock him for free. His partner here is Luka Modrić.
The offense looks mad once again. On the right, we have picked Al-Owairan for the second time, in the middle we can see Rulebreakers Franck Ribéry and on the left, the Path to Glory card of Vinicius Jr. will be running up and down the wing. By the way: Him and Carvajal can still collect some upgrades! In the center of the attack, you can trust the one and only Rudi Völler!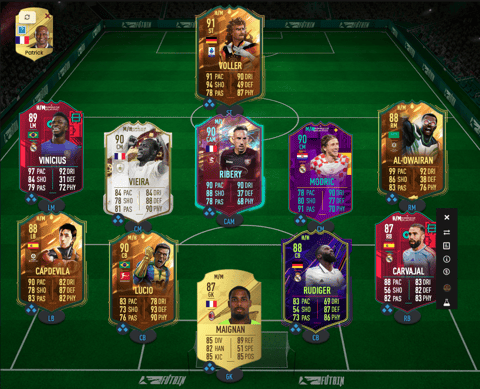 If you need something for your PS5, you can find it here.

We hope your wish comes true, and you can build an awesome Ultimate Team for your Christmas Holidays. Maybe it isn't the best Ultimate Team, but only very few can afford such a team.
This article contains affiliate links which are marked with [shopping symbol]. These links can provide a small commission for us under certain conditions. This never affects the products price for you.