If you weren't able to take part in the Fortnite Chapter 3 Season Finale, Fracture, here's everything you need to know about it!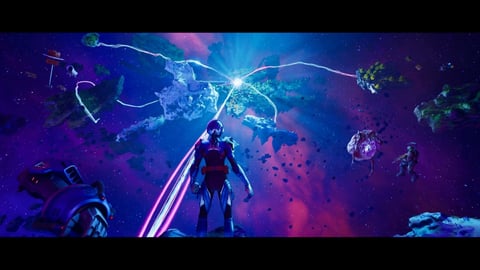 The Fortnite Chapter 3 Finale, Fracture, divided the community. A portion found it incredibly lackluster and convoluted, while others, enjoyed the surprises and the progression of the lore the battle royale has been building these past few years.
Regardless of what you think of it, you can't deny that seeing the likes of Geralt of Rivia, MrBeast, The Hulk, and Doom Slayer show up, confirming their appearance as Fortnite skins, was very exciting!
But what exactly went down in the event? Well, if you didn't have time to jump in on the fun or were simply not interested in taking part, we have a quick summary for you right here!
Was The Fracture Event A W or an L?
A lot of people online have been referring to the Fracture Fortnite Live Event as an "L Event,", particularly on Twitter. This is based mostly on it being an activity that lacked the hype of, for example, taking part in a giant mecha fight.
The activity was simply a series of tasks players had to complete to help power up the Zero Point for Paradigm in order to piece together a new Fortnite island.
It all started with a showdown against The Herald, who ended up taking over the previous island, covering it in chrome entirely. The last resistance group fought by setting up camp on top of a Reality Tree, however, chaos ensued.
Some of the quests included completing time trials, throwing chickens at the Zero Point, hitting another player with a snowball, connecting two objects with one another, and more. After players powered up the Zero Point to a certain degree, a new portion of the map would unlock and they had to repeat the process.
As you can imagine, it wasn't very exciting or engaging. After a few minutes, it became incredibly repetitive and the hype of being present for a live event quickly faded away.
In the end, players that completed the live event were rewarded with an incredible cutscene that, as we mentioned, teased plenty of new content set to arrive during Chapter 4 Season 1.
For more Fortnite content: