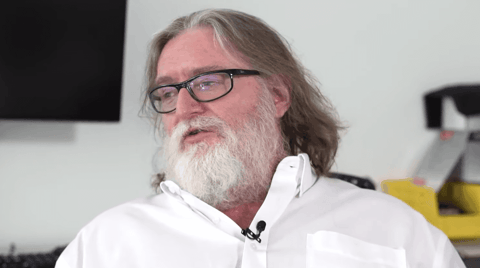 Valve's co-founder and gaming demi-god Gabe Newell gave an exclusive interview to IGN the other day. The topics were quite a lot and included – Half-Life as a whole, the upcoming Half-Life: Alyx, Steam, VR and the future of gaming.
The whole interview is close to 30-minutes but it's definitely a must-watch. In case you don't have the time for the entire clip, take a look at some of the most important points below.
Half-Life as a franchise has been a gamechanger for the industry ever since the first part came out in 1998. Valve followed up with a sequel – Half-Life 2. There were rumors that the game's initial release wasn't as good as they wanted, so they remade a huge part of it. What we saw in 2004 was amazing. Both Half-Life 1 and Half-Life two are classified as shooters, but in their core they're so much more. Each of the titles finds a way to keep players entertained with new weapons, new mechanics or the next twist in the game's story. Half-Life 2 followed up with two episodes with the second one coming in 2007 and leaving the game at a cliffhanger.
Ever since then fans have been dying to know whether there will be a Half-Life 3 and when. Valve dodged the question for years and the possibility of a new entry in the series was getting slim. That is until Half-Life: Alyx was announced. The game is set for VR, as according to Newell, it's the future and he couldn't imagine it otherwise. While Alyx is technically the third standalone Half-Life game it takes place after Half-Life and before Half-Life 2. Technically we got a third Half-Life game, but it's not a continuation of Gordon Freeman's story. Half-Life Alyx is set to release this Monday, March 23, 2020.
In the interview, Gabe talked about the challenges he faced in the early days of his career and how making a new Half-Life game is very difficult due to the high expectations from fans. He also mentioned that Valve is still a privately held company and they don't plan on going public. We already saw the transformation of Blizzard as their reputation slowly degraded after becoming one with Activision and trying to serve corporate interest first, instead of their clients – the gaming community. Half-Life games, according to Newell, are always trying to solve problems and offer solutions and that's the reason they don't pump out game after game. There's also no need to crunch numbers every year, which is a thing for some studios.
Gabe also commented on the merging with AI ideas by Elon Musk, adding that things aren't as complicated as they seem. Apparently the human brain is easier to access than we're led to believe and we're nearing The Matrix. Newell called it the "Extinction-level event" for entertainment as nothing will quite be able to surpass the next level of VR. Valve will probably be focusing on a brain-computer interface in the years to come.
In case you were wondering which one is GabeN's favorite game – it's clearly Dota 2. To quote Robin Walker, who was also at the interview he answered the question for Gabe with his own words:
"I don't understand why I would play any game other than Dota 2 at this point. I'm just gonna keep playing Dota 2."
The interview also highlighted some other topics like Source 2, the flop of Artifact and more.
Are you excited about Half-Life: Alyx? Even if you're not, Newell asked fans to email him at gaben@valvesoftware.com and give him their opinion the upcoming Half-Life game.