Armored Core 6 is the next FromSoftware game, co-directed by Dark Souls and Elden Ring creator Hidetaka Miyazaki. The classic franchise is coming back ten years after the last entry.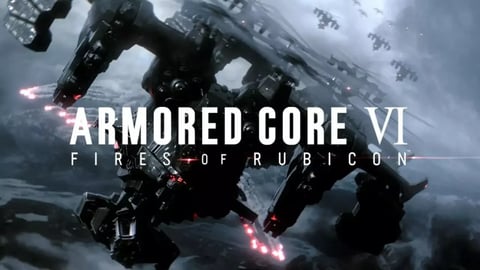 We kinda knew that this would happen, but it was still awesome to see the reveal of Armored Core VI: Fires of Rubicon, the next game by Elden Ring creator FromSoftware, at The Game Awards 2022. The game is set to be released in 2023 and is the first title in ten years for the long-running series of mecha-action games, which FromSoftware started in 1997.
Armored Core 6 Brings Back The Classic FromSoft Franchise
For most people, FromSoftware will be only known for Dark Souls and Elden Ring. But they have actually been around for a long time, making dozens of titles, none of which reached quite the heights of their Soulslike games. One of the most successful franchises was Armored Core though.
Between 1997 and 2013, FromSoftware made 24 games in the series, counting spin-offs and such. That's a lot! Fire of Rubicon marks a big comeback for the series, ten years after the last AC title. What's super hype about this, is the fact that the game is co-directed by Hidetaka Miyazaki, who was also the director for Dark Souls, Bloodborne and Elden Ring. Imagine having that kind of CV...
Click here to get a PS5. You'll need it for all of these new games!
Super hype is also the reveal trailer. It shows tons of exciting scenes from the cool sci-fi world of the game. And that music! I can't wait to see this game in action. Check out the trailer here and below that, read the official description:
ARMORED CORE VI FIRES OF RUBICON will offer a game experience based on the mech game know-how FromSoftware cultivated over 25 years of developing games in the series, but now introducing groundbreaking gameplay found in the developer's recent action games. The new ARMORED CORE title will combine these elements into thrilling action that only mechas can provide. The game promises to be a unique entry in the mech action game genre.

In ARMORED CORE VI FIRES OF RUBICON, players will be able to freely move through massive three-dimensional environments with rapid maneuverability while experiencing visceral vehicular combat. Signature to FromSoftware's carefully crafted game design, the game will feature challenging and memorable battles along with a fulfilling progression system and deep gameplay, all of it now powered by assembling mechs and going into combat with massive bosses. Players will recognize the sense of satisfaction and achievement when they overcome a difficult situation and relish momentary victory, and perhaps a boost to their standing, before encountering the next challenge.
What The Heck Is An Armored Core?
While Armored Core is one of FromSoft's longest-running series, it was always more of a cult classic. And it's now been so long, that most fans of the current FromSoftware probably don't know at all what it is. That's a shame, because Armored Core was always really cool.
In these games, you take control of a mech and fight through various missions in 3rd-person-combat. The action was always exciting and fun, if not a bit clunky. Considering the refinement of a game like Elden Ring, it will be interesting to see how a game like this one, which will feature a mix of melee- and gun-focused combat, will feel like.
The big star of the show wasn't the combat or the, largely non-existent, storytelling (which Miyazaki will hopefully bring to another level); it was primarily the insane levels of customization. Even back then on the PS1, you had tons of options to individualize your mech, whether through custom paint jobs and logos, or the many different options you had in changing each part of your mech.
We haven't seen any gameplay of AC 6 yet, but here's hoping that this comeback can combine the studio's current world-class level of production with these staples of the classic franchise. It could be a really amazing game. Don let me down, Miyazaki...
This article contains affiliate links which are marked with [shopping symbol]. These links can provide a small commission for us under certain conditions. This never affects the products price for you.