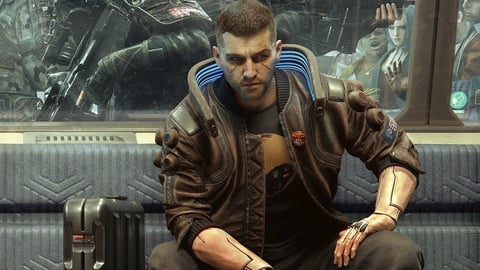 With Cyberpunk 2077, the hottest game of 2020 is finally on retailers' shelves. While the action role-playing game from CD Projekt Red is setting one sales record after another, the technical problems on the PS4 and Xbox One versions are piling up for the release. Uh oh.
Cyberpunk 2077 is finally here, and this time it's for real. It honestly feels bizarre that we're able to say that, after about eight years of suffering. While the role-playing game is setting sales records, technical problems with the PS4 and Xbox One versions are clouding the Cyberpunk 2077 release.
Cyberpunk 2077 Sets Sales Records
In the run-up to the Cyberpunk 2077 release, the hype around the new game from the Polish developers CD Projekt Red knew no bounds. No wonder, since the gaming community has been waiting for the title for over eight years.
Not surprisingly, the sci-fi role-playing game also set one sales record after another upon its release. Cyberpunk 2077 sold around eight million copies before its release. That corresponds to sales of around 500 million US dollars - and that's even before release.
December 10, 2020
For comparison: GTA 5, the most pre-ordered game of all time, achieved sales of almost 800 million US dollars in pre-orders and on the release day. Protagonist V and the other characters from Cyberpunk 2077 are therefore very close, and the sales figures from the release on December 10 are still pending.
59 percent of the pre-orders are for the PC version of Cyberpunk 2077, which corresponds to around 4.72 million copies sold. This makes Cyberpunk 2077 the best-selling PC game of all time at release - and that just a few days after World of Warcraft: Shadowlands was able to secure this record (with 3.7 million games sold).
December 10, 2020
Cyberpunk 2077: Console Version with Massive Problems
While Cyberpunk 2077 has come off well in international reviews, reports of massive technical problems with the PlayStation 4 and Xbox One version are now piling up.
On Reddit, a now huge thread enjoys enormous popularity, in which the creator describes Cyberpunk 2077 as unfinished and buggy:
"This game is unfinished and total disaster with graphics and texture applying."
Over 30,000 upvotes and meanwhile around 11,500 comments agree with the creator, and Cyberpunk 2077 for PS4 and Xbox One also comes under fire from the international press (using JeuxVideo as an example). Especially the optimization on PS4 is heavily criticized. Then again, the game was delayed multiple times and obviously rushed to release earlier than intended so most of us expected it to be a buggy mess.
The Technology of Cyberpunk 2077 on PS4 and Xbox One.
It takes several seconds for the textures of Cyberpunk 2077 to load on PS4 and Xbox One. Other players report severe glitches, regular crashes, and many other graphics problems.
This is Cyberpunk 2077 - PS4 version 1.00. Resolution is literally below 720p and the game takes 20 seconds to load in textures. Inexcusable. Unfathomable. Unplayable. pic.twitter.com/AZ2OPTnkdL

— Michael Does Life (@MichaelDoesLife) December 9, 2020
The final version of Cyberpunk 2077 on both consoles does not have much in common with the gameplay trailer from 2018, as YouTuber "LegolasGamer" also proves in his clip:
Nevertheless, Cyberpunk 2077 runs much better on the next-gen consoles PlayStation 5 and Xbox Series X, even though the big update won't go live until 2021. The console implementation of Cyberpunk 2077 also doesn't fare well with the technology experts from Digital Foundry.
In the big graphics video, Digital Foundry proves that Cyberpunk 2077 can only rarely reach the targeted 30 FPS on the PlayStation 4 and often even drops below 20 frames per second - which is simply unplayable.
We can only hope that the developers will address the technical problems of Cyberpunk 2077 with an extensive update as soon as possible. In any case, since the game is so vast it'll probably take numerous patches to fix the issues.
More news from the world of gaming and esports, such as the new release date for Halo Infinite, can be found on EarlyGame.
Original article by EarlyGame's Philipp Briel.