Diablo 4's Season 1 is live and running, and below we've given you our pick of the best Battle Pass Rewards for each class. Enjoy!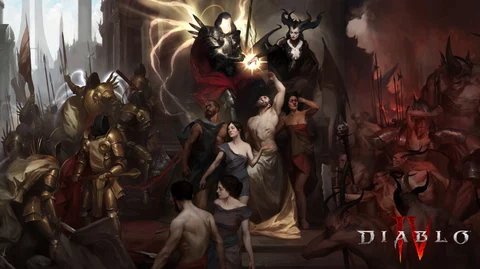 Veteran Diablo players should be no strangers to seasonal content, given Diablo 3's post launch content revolved mostly around it. Including every few months a new season with reworked skills, legendary and new gameplay mechanics.
But with the inclusion of the battle pass, the Diablo 4 season mechanics works a little bit differently. You'll still get a lot of reworks, nerfs and more out of every season, but it's also a step into a more traditional live service model with new cosmetics, emotes and transmogs hidden behind a purchasable battle pass.

The "Season of the Malignant" is stacked up with a 90-tier battle pass with different rewards. There are 27 Free ones and 63 Premium tiers. But which rewards are the best for each class?
Let's dive in!
Diablo 4: The Best Rewards For Each Class
There are a lot of interesting items for each class and for everyone in general. Loads of new title prefixes and suffixes, Smoldering Ashes, trophies for your mount and even some of the in game currency "Platinum".
The "Hero Overwhelmed Headstone" 73-tier premium reward piqued my interest. It's a wonderful transmog for your corpse after you've been lying dead and defeated on the ground, love it.
Each class has its own time to shine, and they get some new and unique items from the battle pass. We've picked three of the most intriguing things we can't wait to get our bloody fingers on.
Diablo 4: Barbarian Best Battle Pass Rewards
Tier 15 – Balanced Axe one-handed Axe – Transmog / Free – I see a strong resemblance from Kratos axe "Leviathan" from God of War
Tier 39 – Bastard Sword two-handed Sword – Transmog
Tier 44 – I Will End You! – Emote
Diablo 4: Necromancer Best Battle Pass Rewards
Tier 11 – Coldiron Jambiya Dagger – Transmog
Tier 19 – Coldiron Shear one-handed Scythe - Transmog
Tier 69 – I Will Rip Your Soul Apart! – Emote
Diablo 4: Druid Best Battle Pass Rewards
Tier 53 – You Will Die! – Emote
Tier 66 – Gilded Coldiron Crozier Staff – Transmog
Tier 71 – Coldiron Maul two-handed Hammer – Transmog
Diablo 4: Sorcerer Best Battle Pass Rewards
Tier 41 – Thoughtful Examination – Emote
Tier 61 – Coldiron Simulacra Focus – Transmog
Tier 85 – Coldiron Rod Wand – Transmog
Diablo 4: Rogue Best Battle Pass Rewards
Tier 31 – Coldiron Recurve Bow – Transmog
Tier 51 – Estoc one-handed sword – Transmog
Tier 79 – Die! – Emote
By completing the "Season Journey", killing enemies or completing different Campaign or Side Quests, you progress further within the battle pass and earn your tiers.
Take a look at this video, highlighting every single item from the Diablo 4 battle pass:
You have three months until the first Season will come to an end. Good luck getting your hands on those juicy rewards waiting for you!
Here are some guides you don't want to miss:
This article contains affiliate links which are marked with [shopping symbol]. These links can provide a small commission for us under certain conditions. This never affects the products price for you.