There is a transmog system in Diablo 4, and we'll show you how to use it. You can change the appearance of your gear and your character whenever you want, for free and in any major town. Here's how to use the Wardrobe in Diablo 4.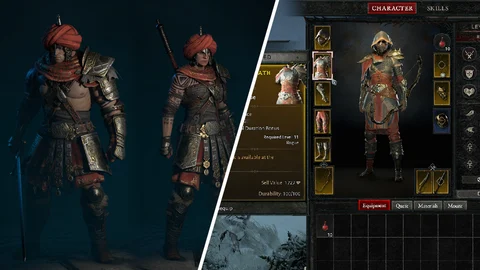 Diablo 4 is pretty awesome, and we think it could be a Game of the Year candidate. One of the best things about the game for us is the transmog system.
You get lots of gear in Diablo 4, and it's annoying that this gear changes your character's look so frequently. But it doesn't need to be this way. If you use the Wardrobe found in town then you can just pick a certain cosmetic look that will remain applied to your character no matter what piece of gear you equip.
When you do this, you can keep equipping the best stuff, while also maintaining a consistent appearance. This process is called Transmogrification, or Transmog for short.
TL;DR: If you care about your character's appearance, keep reading this article.
And if you care about min-maxing in RPGs, read our guides:
If the Transmog system persuades you to give the game a go, here's a link to buy Diablo 4.
Diablo 4 Transmog: How To Unlock The Wardrobe
The transmog system in Diablo 4, which allows you to change the appearance of your character and gear, is unlocked right from the start of the game, just go to the wardrobe in town. The wardrobe is on the second floor of the pub in the first town you discover, Kyovashad in Fractured Peaks. When you teleport to Kyovashad's Waypoint, just go directly north and you'll enter the pub.
Here it is: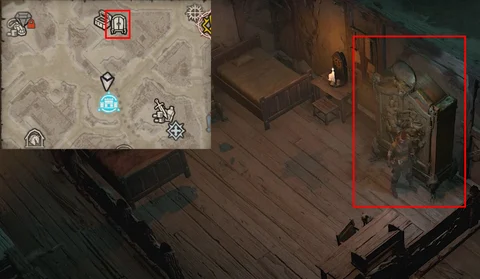 The Wardrobe is free to use, don't worry about needing to buy a room at the inn or anything. Every hub town a la Kyovashad in Diablo 4's different regions has a wardrobe like this for you.
How To Change The Look Of Your Gear In Diablo 4
To give your character a specific look, go to the Wardrobe and do the following:
Go to the first tab "Wardrobe"
Choose the armor slot you want to change the appearance of: Shoes, Greaves, Trousers, Tops.
Select one of the Variants you can see pictured below.
Select a pigment if you want to change the color of the clothing (you can have the color apply to only that slot or all slots).
Confirm your selection.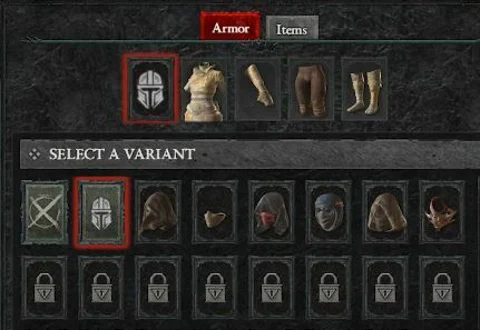 Now you will be wearing a set of clothes that you have chosen, and in the color you want. And the best part is, you can continue to change your armor for better pieces of armor and this new look will remain.
You start the game with all available pigments, but if you want to get new Variants then you will need to either salvage gear or buy Variants directly from vendors. There are some great cosmetics in Diablo 4, so we advise keeping an eye out.

You can save a combination of clothes as a whole outfit, referred to by the game as so-called "Ensembles". Just select the empty Ensemble slot above the Variants once you're happy with the different Variants and pigment choice (if you want to save more Ensembles you need to buy more slots for 5,000 Gold each).

How To Undo Transmog'd Gear In Diablo 4
You can untransmogrify gear and return it to its natural look by right-clicking it in your inventory and selecting "remove transmog" (if you're on controller, just press A/X while having the gear piece selected).
You can do this at any time and in any place, but if you want to Transmog gear and apply new looks you will always need to return to the Wardrobe.
Want your buds to play Diablo 4? Show them this:
How To Change Your Character's Appearance In Diablo 4
Although not the same as Transmogrification, we can also use the Wardrobe to change the look of our character, just like we did at the beginning of the game during character create. So don't worry if you didn't give yourself enough tattoos at the start of the game, you can always alter your appearance.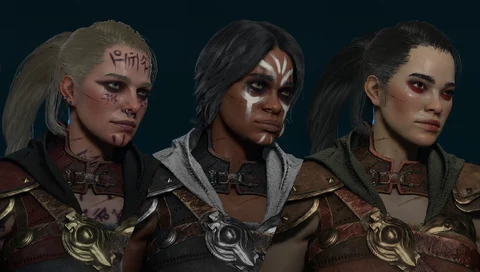 If you want to alter your appearance, just go to the second tab "Appearance" when in the Wardrobe menu. You can see all available options from this one screen, pick and choose as you please.

And that's all you need to know about the Transmog system and the Wardrobe in Diablo 4. Now you can change the appearance of your character and your gear as you please.
If you're just starting your journey in Diablo 4, may we also recommend you brush up your knowledge on Aspects if you aren't already using them:
This article contains affiliate links which are marked with [shopping symbol]. These links can provide a small commission for us under certain conditions. This never affects the products price for you.