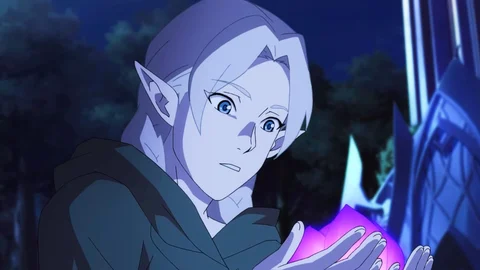 DOTA: Dragon's Blood is the unexpected animated series based on Dota 2 that everyone's waiting for. The show is set for release on March 25 but reviews are already out. Let's check out what they're saying.
The Dota 2 lore will be expanded upon in the upcoming animated series DOTA: Dragon's Blood. There are still six days before the official premiere on March 25 but some outlets have already released a review of the show. This article will be spoiler-free but the reviews mentioned are not so click at your own risk. Without further ado let's get into the reviews.
DOTA: Dragon's Blood Reviews
The first review we stumbled upon was one by PC Gamer and as usual, we were let down because the author has never played DotA or Dota 2. It's more of a comparison between Castlevania than a DOTA: Dragon's Blood review and seems really biased. In my personal opinion, Castlevania was a bore-fest that didn't manage to achieve anything. At least Dragon's Blood will promise plenty of action:
Dragon's Blood is conventional, and probably among the safest ways to adapt a game like Dota into a television series. It ends with much more story to tell, and maybe with its cast of characters now established, a second season could shade in the nuances they didn't get in these eight episodes.
Next up we have gamespace where the review comes from a Dota 2 fan and the take is quite different from the one in PC Gamer.
DOTA: Dragon's Blood is a solid entry for a video game adaptation and yet more evidence that on-screen revivals of our digital heroes should be left to animation studios like Mir. While the writing is sometimes hampered by a need to keep going faster, some great ideas don't seem chained back by their origin.
Both reviews so far praise the work of studio Mir and we can't wait to see some of the action sequences.
Finally, there's a review from geekculture which also ends on a very positive note giving the show a 9/10. Exactly what we were hoping for.
The first season of DOTA: Dragon's Blood is an exceptional game adaptation that will leave you hanging for more after its season finale. And as fans, we can only pray they'd continue in the right direction and explain the unanswered mysteries of the first season.
NANI?@dota2anime #Anime pic.twitter.com/8mnMdDlVuG

— Dota 2 (@dota2updates) March 16, 2021
Conclusion

All three reviews agree that DOTA: Dragon's Blood will have some nice quality animation and excellent action sequences. On the story-side, they're a bit conflicting. Perhaps the show won't be as welcoming to newcomers but it should attract attention to Dota 2.
On the other hand, lore enthusiasts will probably have a blast with the show as Netflix are trying to both tie the stories of many different heroes together and expand upon them. On top of that, we'll also get to see a new hero!
Are you excited about DOTA: Dragon's Blood as much as we are? Tell us on Facebook or Twitter! Also, make sure to mark March 25 on your calendar!
For more Dota 2 news and everything gaming or esports, check EarlyGame. By creating your own MyEarlyGame account you can customize the content on our website, and enter exclusive giveaways!