A new Genshin Impact leak has surged up overnight, leaking both Neuvilette's and Wriothesley's kits in the game. Here is all you need to know.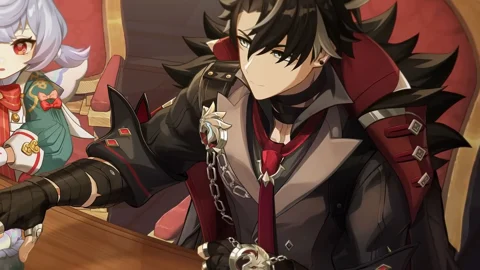 Time barely passed since we've got the official Genshin Impact Drip Marketing of Neuvilette and Wriothesley, now we already have the first leaks about their gameplay! I have compiled all the most important information we already know about these two fontainian men.
Genshin Impact: Leaked Neuvilette Kit
From the way he fights in the video that got leaked on Twitter, he seems to be a Catalyst user. Many people were hoping to finally see a Hydro Claymore character for the first time in Fontaine, but we still have hope for Furina.
While attacking, he uses a walking stick and occasionally sassyly Thanos snaps to send his opponents into oblivion. His charged attack looks absolutely badass! While waiting, a blue circle forms in front of Neuvilette while he collects blue energy particles. Oh, and by the way, he is just casually floating slightly above the ground while charging? Well, anyway, the fully closed circle then unleashes a beam of water pressing full force against your enemy with two smaller streams joining left and right, this goes on for about 10 seconds.
His E/Elemental Skill unleashes a Hydro strike focused on one enemy in particular, which hits twice. It also spawns Pneuma orbs.
And his Burst — don't get me started on that! He slams his stick into the ground like a true judge would, creating a huge Hydro AoE with rain falling down dealing damage, this also spawns Pneuma orbs.
(4.1) NEUVILLETTE GAMEPLAY

-Via Dim#GenshinImpact #Genshinleaks #Fontaine # #Neuvillette pic.twitter.com/uJISe6gh74

— Genshin Universe (@GenshinUniverse) August 16, 2023
Show off your Genshin Main in real life with this cute Genshin Chibi Acrylic Keychain. My personal favorite design is Kokomi's!

Genshin Impact: Leaked Wriothesley Kit
I feel like Wriothesley will become a surprise fan favorite – especially now, since a recent leak teased he might have the most voice lines in Act 3 and 4 from all the Fontaine characters.
// #genshinleaks

WRIOTHESLEY HAVING THE MOST LINES IN BOTH ACT 3 AND ACT 4 (except traveller and paimon)

HE IS THE STAR WE LOVE TO SEE IT pic.twitter.com/tcnPfNjdIC

— daily wriothesley (@dailywrio) August 17, 2023
Even better that this Cryo wolf boy seems to have a really fun play style! He is very intriguing, since he is one of the first characters to not be in his elemental colors – judging from his looks, one would've guessed he is Pyro. Now that we know how he fights, we get even more interesting facts about him; it's pretty similar to V's combat style from LoL or Luca's from Star Rail.
He seems to be a catalyst user, judging from the fact that he literally does not care about using a weapon, preferring to just straight up Cryo-slap you in the face with special mechanical gloves. I can only see this positively. Heizou's super fun martial arts fighting style combined with the fact that you can literally ice bridge through punching the air? Don't threaten me with a good time.
Using his E seems to trigger a special fighting mode where he probably does more damage or different damage than usual – it has a dark aura, which is probably Pneuma/Ousia infused. He also gets a special wolf stack at his side, but at the moment, it's unclear which effect it has.
And man, his burst is also so insanely cool. He uses his right-hand gauntlet as some sort of rocket, and launches it forward at this opponent, whereupon reaching its destiny, it immediately splashes into huge ice crystals left and right and additionally pierces the enemy through its center.
(4.1) WRIOTHESLEY GAMEPLAY

-Via Dim #GenshinImpact #Genshinleaks #Fontaine # #Wriothesley pic.twitter.com/2F6jblqs1D

— Genshin Universe (@GenshinUniverse) August 16, 2023
We are so excited about what characters will come next and hope to see both of these on our banners as soon as possible!
This article contains affiliate links which are marked with [shopping symbol]. These links can provide a small commission for us under certain conditions. This never affects the products price for you.