Genshin Impact: Not too long ago, the new Pyro limited character Lyney joined the roster of five stars. If you are searching for all the most important information about building him, then look no further.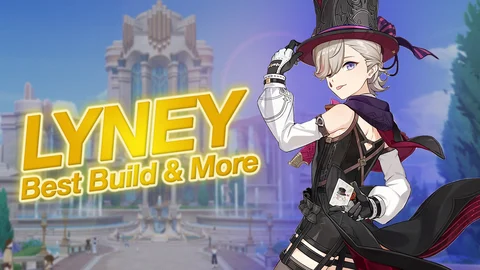 Genshin Impact: Lyney is on his way. There are just a few days left until Kokomi and Wanderer leave us and free the stage for Lyney and Lynette's Debut! Here is everything you need to know to prepare yourself for this magical man before he arrives August 16.
Genshin Impact Lyney: All Abilities And How To Play
Lyney is similar to play to Hu Tao in a way, but also to Ganyu or Tighnari. You will mainly have to focus on his charged attack. Since he is a DPS, you will have to focus on building a team around him to make him work effectively.
Normal Attack: "Card Force Translocation"
His charged attack can spawn a Grin-Malkin Hat for 4 seconds that deals additional damage to the enemy. While this is active, you'll still be able to use your skill and burst, but when you charge attack a second time, you'll get a special "Prop Surplus Stack" which drains 20% of your max HP, but will boost your skill damage, so keep an eye out for your health. Another important note is that his normal attack can deal Pneuma-aligned damage.
Elemental Skill: "Bewildering Lights"
His skill creates an AoE Pyro field that uses up all the Prop Surplus Stacks you collected, and then continuously deals damage to the enemy in front of you. If you have a Grin-Malkin Hat present on the field at that time, it will explode, dealing additional AoE Pyro. The ability also regenerates his lost HP, similar to Hu Tao's burst.
Elemental Burst: "Wondrous Trick: Miracle Parade"
His burst is pretty fun to play, since it turns you into a Grin-Malking Cat yourself. It lets you slide around in a hat, dealing Pyro DMG to nearby enemies. Near the end of his burst, he gets out of the Cat state with a huge firework, and also one additional Hat and Surplus stack each. This ability can be actively canceled and goes on for 3 seconds.
Passive Talents
Perilous Performance
If Lyney consumes HP while firing a Prop Arrow (2. Phase Charged Attack) then the hat will, upon hitting an opponent, resotre 3 Energy particles to him and increase the dealt DMG by 80% of his ATK.
Conclusive Ovation
Mono-Pyro fans attenzione! Lyney buffs teams with focus on Pyro a lot: affecting enemies with it will give you a 60% DMG increase, and each additional Pyro character you have on your team will increase the dealt DMG by 20%.
Trivial Observations
This Passive lets you see nearby Fontaine resources on the mini-map.
Best Artifact Sets
The best artifact set for Lyney is the upcoming Marechaussee Hunter Set. Its two-piece set grants a normal and charged attack damage bonus of 15%, which is just a nice-to-have for many bow characters. But when looking at its four-piece effect, you can quickly see that it is tailor-made for him. It grants you a CRIT rate increase of 12% for 5s, stackable up to three times, when his HP increased and decreases. This could make him really broken, since he can make use of the effect both in his charged attack and his skill. If you play him with a healer like Barbara, you could keep this effect up for forever, since he doesn't need to stay at low health like Hu Tao.
Alternatively, if you want to pre-farm (not recommended) a Pyro DMG artifact should work on him as well, like Crimson Witch, or you could focus on his charged attack and give him a four-piece Wanderer's Troupe.
Best Weapon
The best weapon for Lyney will be his signature weapon that is coming with him on the weapon banner called "The First Great Magic". It's a five-star bow with an additional stat granting 66.2% Crit DMG at Level 90 and 14.4% at Level 1.
Its Weapon Skill adds a 16% DMG increase on your charged attacks. For every party member with the same Element as the wielder (including themselves) they get 1 Gimmick stack. For every party member with a different elemental type, they get 1 Theatrics stack. ATK will be increased by 16% with one Gimmick stack, 32% with two and 48% with three. The same system applies with Theatrics Stacks, with one increasing Movement Speed by 4%, two by 7% and three by 10%.
Alternative Options
Other weapons that fit him are Skyward Harp, which is a pretty neutral option for bow users, and a handful of f2p-friendly options.
All Free-2-Play Options
Blackcliff Warbow: You can buy this weapon at Paimon's Bargains, and it's coming back in September. It costs 24 Masterless Starglitter. It buffs ATK by 12% for 30s after defeating an enemy, stacking up to three times, and increases CRIT DMG by 36.8% at Level 90.
Prototype Crescent: This is a good option for you if you have a spare Northlander Bow Billet left. If a charged attack hits an enemies' weak point, Movement Speed will be up 10% and ATK by 36% for 10s. Additionally, the weapon increases ATK by 41.3% at Level 90.

3-star: Slingshot: This should be treated like an emergency option only. If a Normal Attack or Aimed Shot hits a target within 0.3s after being fired, DMG will be increased by 36%, otherwise decreased by 10%.

If you are fast enough, this Lyney stand might make it to you in time before your pulls, so you can have the ultimate wishing ritual at home.
Possible Team Comps
Having all of this in mind, who can you pair Lyney best with? Well, we have seen a trend in the last few months of Hoyo releasing new characters in pairs, where a five star is being supported best by their own tailored four star. Four Lynette, this is obviously Lynette! She is an off-field Anemo support, she buffs ATK and swirls & absorbs elements.
It seems like Lyney's most important stat seems to be ATK. That's why we recommend at least one other Pyro party member, to get 40% Cryo res and also a 15% ATK increase. If you use Xiangling then you'll get an additional ATK buff.
You should also look into a good healer. A nice fit would be Bennett, since he is also Pyro and buffs ATK as well. If you don't have him, you should look into an Anemo healer like Sayu or Jean, or you could make a Vaporize team for more elemental reactions, which we would recommend either Barbara or Xingqiu for.
At the end of the day, the most important thing is that you have fun playing with your characters, so you should really decide based on that factor. Good luck on your Lyney pulls Travelers!
This article contains affiliate links which are marked with [shopping symbol]. These links can provide a small commission for us under certain conditions. This never affects the products price for you.