Thank god for LinkedIn. We have new information on GTA 6 thanks to resumes from two developers who worked on the game.
Man, I really love LinkedIn. I don't actually use it myself, but it is a goldmine for any kind of information. People need to market themselves, obviously, so they'll put in everything they did. Including work on games that haven't been shown yet... like GTA 6. We might know more details about the highly anticipated game now, thanks to multiple developers who revealed details on their LinkedIn profiles.

GTA 6 Developers Accidentally Leak New Details
Avid internet detectives found new details about GTA 6 in the LinkedIn profiles of multiple developers, who either worked on the game at some point or who are still employed at Rockstar. Here is one example from Nathan Hunt, who used to be Senior Cinematics Camera Artist for Rockstar Games:

Responsible for cinematics cinematography and narrative deign flow for immersive, seamless transitions from cinematics to in-game.
Design and create cinematic transitions for cutscenes and interactive scenarios.
This confirms that GTA 6 will have seamless transitions between cutscenes and gameplay. Very neat!
But that's not all! Of course not. This technology has been in games before, so we wouldn't write an entire article on that. According to Reddit user u/MyNameIsHendrik, another LinkedIn profile by a Rockstar employee revealed even more details on the technology used in GTA 6.
This time, it's Ryan Schacter, Senior Animator at Rockstar. He went into more detail regarding the technological advances GTA 6 will pursuit, once it comes out in 2024. And it sounds amazing, check it out: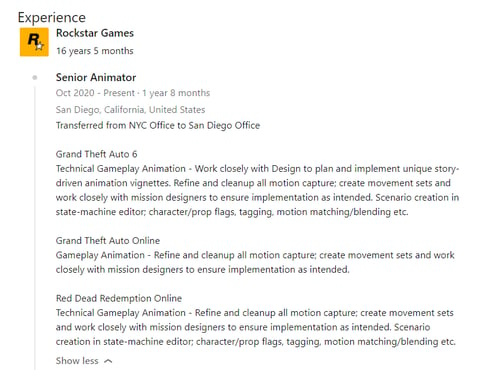 Now, this for the most part sounds similar to the first bit of info: GTA 6 will have smoother animation etc. yeah yeah very cool. But the thing people are excited about here is the mention of Motion Matching. Before you google what that is, let me explain: Motion Matching is a cutting-edge technology that makes animations smoother, more seamless and more realistic than ever. The only games that have used it before are The Last of Us Part 2 and For Honor.
So we can expect GTA 6 to look absolutely amazing, by using this super high-tech technology. Man, can you imagine how good it will look?