A new leak suggests that a Battle Royale may be coming to Halo Infinite as early as Season 2. How likely is this, and what was the leak?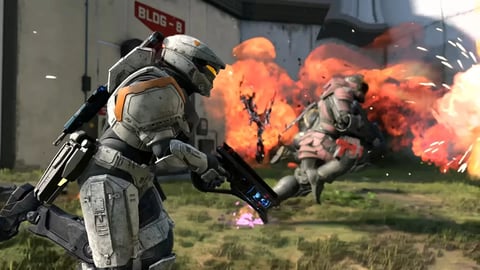 A brand new game mode has been leaked for Halo Infinite, due to potentially come out in Season 2, and it looks a lot like a Battle Royale. The leak, which should of course be taken with a pinch of salt, describes something called "Last Spartan Standing" and, to be honest, looks absolutely fantastic if it is legit.
There has been much speculation about a possible Battle Royale for a long time now. Whilst I disagree that Halo Infinite necessarily needs to go down the BR rabbit hole, many (even within the EarlyGame team) believe that it is the key to giving the game legs. In the end, though, if this is for real, it could breath new light into a game that is currently losing players by the bucket-load.
So what is the deal with this new mode? Well, it sounds like a Battle Royale to me and has some pretty cool art, if the stuff in the leak is real. In addition, the leaker has been a pretty reliable bloke in the past. Their predictions have often come true, though not always, so we can feel pretty comfortable being a little optimistic about this mode's prospects.
What Is Halo Infinite's Battle Royale "Last Spartan Standing" Mode?
A leak from prolific dataminer and Twitter leaker @Delta_Hub has drawn our eyes to a possible Battle Royale. The leak, which shows two pictures that describe a mode called "Last Spartan Standing" including what seems like some kind of thumbnail and also a mode description.
"Last Spartan Standing" is described as follows:
Every Spartan for themselves! Level-Up your loadout by earning Personal Score to be the last Spartan standing.
Description of the new game mode "Last Spartan Standing".#HaloInfinite pic.twitter.com/5SSq3v10Wy

— Halo Infinite Leaks & News (@Delta_Hub) April 6, 2022
Well, folks, that certainly sounds a lot like a Battle Royale mode to me. Perhaps it's all complete rubbish, but I seriously doubt it. The insane rumors and leaks that have been surrounding Halo Infinite's Battle Royale mode suggest to me that – whilst individual leaks may be inaccurate – something like this is certainly on the cards.
Perhaps we will find that a Battle Royale like this is not the traditional mode we have come to expect from games like Warzone and Fortnite. Alternatively, I think that it could be something more like Ghost Recon's upcoming BR. Perhaps we could see an "extraction" style game mode, which requires players to, perhaps, fight to escape Reach before it is glassed by the Covenant. That would be pretty cool, wouldn't it?