Hogwarts Legacy on PlayStation Plus? Finally, PS4 users can also dive into the wizarding world, but if the game will be included in PS Plus is a different matter.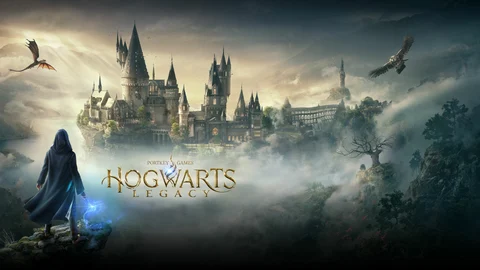 Hogwarts Legacy will, with the beginning of May, finally be available on (nearly) all platforms. Only Nintendo Switch users will have to stay patient. The deep dive into a before undocumented time period in the Wizarding World has given fans all over the globe the opportunity to finally become a part of their favorite story.
PlayStation 4 and 5 users can now alike enjoy the game and become a part of the Wizarding World. In addition to the mysteries, of which Hogwarts itself has enough to offer, players (from the third grade and up, with permission from their guardians, of course) can also explore Hogsmeade. At the small village, entirely inhabited by witches, wizards and other magical creatures, lay many more secrets for you to discover.

If you already know this, you're probably already playing the game. If you're still not sure about it, you might ask yourself if PlayStation Plus subscribers will get the game for free.

Is Hogwarts Legacy Coming to PlayStation Plus?
Unfortunately, Hogwarts Legacy will probably not be available on PlayStation Plus at launch. Considering it is common for triple-A games to be out for a longer time, that's not astounding news. That there is no value in releasing such big games to services like PS Plus was confirmed by Sony. But if you're a PlayStation Plus subscriber and patient (even more than Switch users), there might be a chance that the game will be free for PS Plus members at some point. Maybe as soon as 2024.

Besides the possibility of getting the game for free at some point, there's a fantastic reason to play Hogwarts Legacy on PlayStation.
Exclusive Content for PlayStation
Reading something about "exclusive" content, you're probably thinking of cosmetics or some other things that are nice-to-have but in the end useless. Not this time. With release, PlayStation users will get an additional quest! If you're not afraid of the dark, have a look:

If this spooky side quest isn't a refreshing way to reward users of a certain platform, I don't know what else is.
This article contains affiliate links which are marked with [shopping symbol]. These links can provide a small commission for us under certain conditions. This never affects the products price for you.