The Honkai Star Rail World Tour 2023 is coming! The Astral Express is slowly picking up speed and heading for its next destination! The next locations our crew will visit us?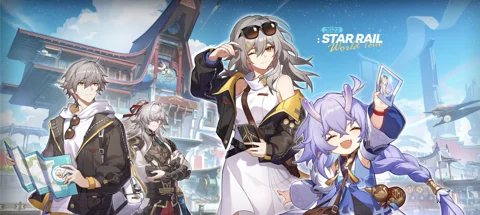 The Honkai Star Rail World Tour is coming! Yes, you read that right, soon our favorite heroes from the Honkai Star Rail Universe and will come to visit us. I can't wait to ask the Trailblazers about their adventures!
The Astral Express has a few stops coming up on its journey! Does it happen to stop in your city as well? Let's take a look at its next destinations and when it'll arrive.
Honkai Star Rail World Tour 2023: All Locations & Dates
First of all, let's take a look at exactly when the journey will start and where it will take us!
The official Honkai Star Rail Twitter account announced the Star Rail World Tour on May 22 with the following Tweet:
Hi, Trailblazers!
Honkai: Star Rail World Tour 2023 is coming!
We are pleased to announce the next few destinations in which the Astral Express will make its stop, including Anime Expo in Los Angeles, Gamers Con in Taipei, and Japan Expo in Paris!
For detailed info about our... pic.twitter.com/wkRaMINRRB

— Honkai: Star Rail (@honkaistarrail) May 22, 2023
In said tweet, we can see what the Astral Express's first aim is going to be.
Let's look at all the stops:
Anime Expo in Los Angeles (Convention Center) / July 1 to July 4
Japan Expo in Paris (Nord Villepinte Exhibition Center) / July 13 to July 16
Gamers Con in Taipei (Taipei World Trade Center) / July 27 to July 31
Gamescom in Cologne (Kölnmesse) / August 23 to August 27
Tokyo Game Show 2023 in Tokyo (Makuhari) / September 21 to September 24
Sadly those are all official stops right now, but there will be more in the future, so don't lose hope! You can check out Honaki Star Rail's official Social Media accounts (Twitter / Website) to stay up-to-date.
Honkai Star Rail World Tour Events
Of course, such a journey must not go without the appropriate events! The following shows can vary from city to city, since not all destinations are able to create the same capacities and basic requirements. But surely there is something for everyone!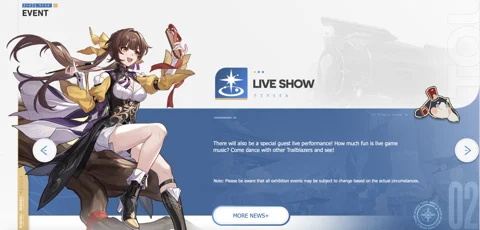 Today was another day of being eager to help! I am very happy with myself. Time to rest! – Sushang
Stage Competitions
There will be multiple competitions throughout the whole event. All Trailblazers on site can sign up to join. You can even win special Star Rail merch after defeating your opponents. To make it really exclusive, there will be certain gameplay that can only be experienced at said event!
That sounds really cool! I wish I knew what it was already …
Live Shows
Of course, there have to be live shows at an event like that! Since we don't know about the special guests, we have to be patient and wait until we can see so for ourselves! It will probably have something to do with music …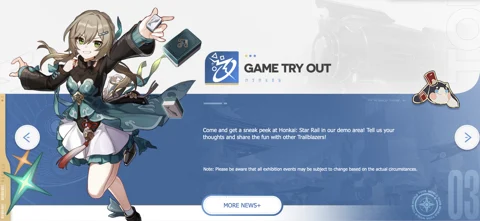 Game Try Out
Get a taste of future Honkai Star Rail releases in the Try-Out Zone! Share your opinions and suggestions and have fun with other Trailblazers.
Snap Zone
Do you really want to be part of Honkai Star Rail's world? Then slip into one of the prepared scenes and take great photos of your favorite characters or become one yourself! The perfect environment for THE picture.
Are you ready for this new adventure? Looks like there are a bunch of mission to accomplish with the help of our stellar crew.

This article contains affiliate links which are marked with [shopping symbol]. These links can provide a small commission for us under certain conditions. This never affects the products price for you.