Unfortunately, Seele's banner in Honkai Star Rail is about to end in just a few hours, but that doesn't mean there won't be a worthy successor! The general of the Cloud Knights, Jing Yuan, is ready to make his great entrance and there is every reason for us to be excited about the whole banner lineup!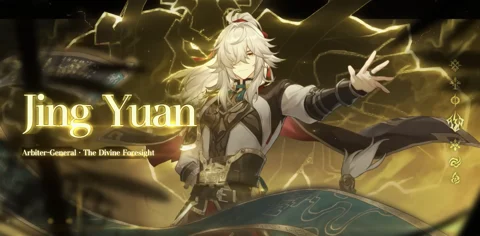 Every end is also a new beginning and even if it is hard to believe, the first three weeks of Honkai Star Rail are soon over, and so is Seele's banner. Time really just flies by lately …
That, however, means a new 5-Star is just waiting to finally go live. For the next three weeks, we will (finally) find Jing Yuan on the Limited Character Banner and with him some amazing 4-Stars!
In addition to the new character, there will also be a new Light Cone Banner, featuring Jing Yuan's signature 5-star Light Cone "Before Dawn".
Imagine having a matching Honkai Star Rail Phone Case with your favorite character. Do I need to say anything more to convince you that this is a good idea?

Let's take a quick look at what to expect!

Honkai Star Rail: Jing Yuan's Banner Is Cracked!

In several short films and animations, HoYoverse blessed us with, Jing Yuan really did shine as the general of the Cloud Knights! He is portrayed as an incredible strong sword master, and we are soon to find out how capable he really is on the battlefield.
Check out this amazing short film that features Jing Yuan:
Jing Yuan's banner "Swirl of Heavenly Spear" will be released on May 17 and will end on June 6. During that timespan, the character Jing Yuan will have a drop rate boost.
Tagging along are three amazing 4-stars: Tingyun (Lightning / HARMONY), Sushang (Physical / THE HUNT) and March 7th (Ice / PRESERVATION)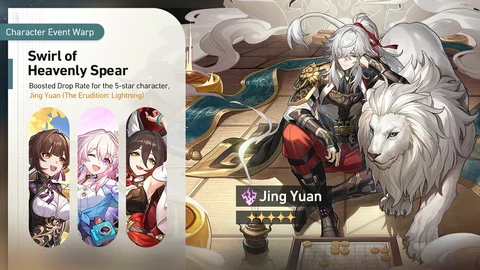 This banner is more than stacked!
The New 5-Star: Jing Yuan
Jing Yuan will be a 5-Star DPS character. His element is Lightning, and he belongs to the path of Erudition. He has great AOE damage and summons a huge Lightning god to attack for him! How cool is this?!
Personality wise, he seems to be strict but kind-hearted when it comes to his student Yanqing. Since he is the general of the Cloud Knights, he has to keep a cool head no matter what. — With such great strength comes a lot of responsibility. His favorite game is chess, since it helps him to understand the battlefield and how to plan his next move.
Take a look at how Jing Yuan plans his next steps:
I just love Jing Yuan's and Yanqing's energy together!

Excellent 4-Stars
Besides Jing Yuan, there will be three 4-star characters on the banner again. This looks like a pretty colorful mix this time! Let's take a quick look at them again: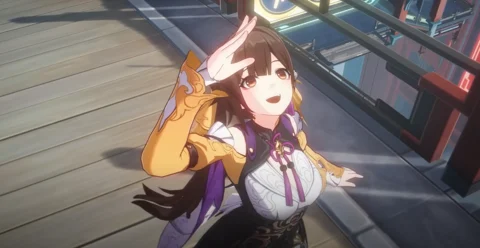 Tingyun (4-star)
Tingyun is one of the best, if not THE best, 4 star offensive support that exists at the moment. She is an excellent buffer, deals Lightning damage and belongs to the path of Harmony. Definitely try to get some Eidolons for her.
March 7th (4-star)
Every one of us has at least one March 7th, since she was the first character the game gave us for free. She is a fantastic shielder and can break enemy Ice shields in no time. March 7th is an Ice character who belongs to the path of Preservation.
Sushang (4-star)
Personally, I am so stoked that Sushang is on the upcoming banner since I couldn't get a single copy of her until now! She is a physical main/sub DPS with great shield break opportunities and has undoubtedly the funniest ultimate animation in the game. Sushang belongs to the path of The Hunt.
New Light Cone Does Not Just Fit Jing Yuan

Since each 5-star character has its own signature 5-star Light Cone, there will be a new one on the Brilliant Fixation Event Banner on May 17 as well.
It will be Jing Yuan's personal 5-star weapon and is called "Before Dawn".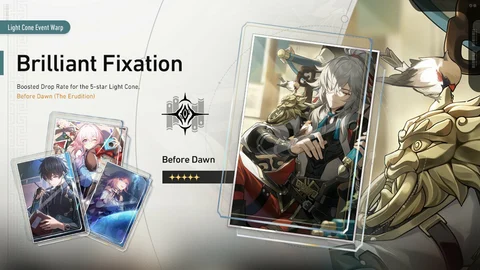 "Before Dawn" seems to be one of the strongest Erudition Light Cones at the moment and has the following effect:
Increases the wearer's CRIT DMG by 36% / 60%. Increases the wearer's Skill and Ultimate DMG by 18% / 30%. After the wearer uses their skill or Ultimate, they gain Somnus Corpus. Upon triggering a follow-up attack, Somnus Corpus will be consumed and the follow-up DMG increases by 48% / 80%. (S1 / S5)
The 4-star Light Cones on this banner shouldn't be underestimated well!
Check out our Light Cone Tier List if you want to know which of these weapons is top tier!
The banner will feature the following 4-star Light Cones:
Day One of My New Life / PRESERVATION
Only Silence Remains / THE HUNT
Planetary Rendezvous / HARMONY
Especially Day One of My New Life is an incredibly high value 4-star Light Cone you should definitely get at some point.
The last thing for us to do now, is to pray for maximum luck on the Jing Yuan banner. May your summons look something like this: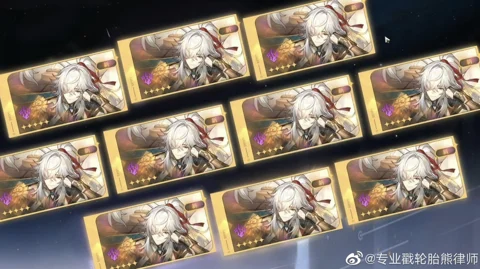 Good Luck to all the Jing Yuan - Wanters! (including me …)
This article contains affiliate links which are marked with [shopping symbol]. These links can provide a small commission for us under certain conditions. This never affects the products price for you.