The Overwatch 2 One-Punch Man event features four new legendary skins based on characters of the anime. In this article, we will tell you how to get them all.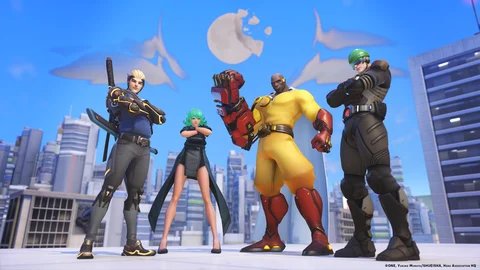 The Overwatch 2 One-Punch Man event is the first-ever anime collab in the history of Overwatch. To celebrate this new event accordingly, Blizzard made some legendary One-Punch Man skins for four of their heroes.
One-Punch Man fans will love this event, and try to unlock all of these skins, but even if you're not familiar with the series, these skins might be for you. Let's face it, they look pretty badass, especially that Terrible Tornado Kiriko skin! If you want to get them all, you're in the right place because we will tell you exactly what you need to do, to get them.
Overwatch 2 One-Punch Man: How To Get All Skins
As we all know, the monetization of Overwatch 2 isn't everyone's favorite topic, but it's one that all Overwatch fans can agree on for once... Overwatch 2 skins are just too expensive, considering that you would get them for free not even one year ago.
Let's face it: The current One-Punch Man event is not going to be any different, although there is one legendary skin, that you can earn for free. Here is how to get every One-Punch Man skin in Overwatch 2.
Saitama Doomfist
Although Blizzard hasn't revealed anything official about how to get this skin just yet, it's pretty safe to say that you must buy this one in the shop. Blizzard has already revealed the event challenges for One-Punch Man, where you can earn another legendary anime skin, but it's not this one. You can buy the Saitama Doomfist skin in a Bundle for 3500 Overwatch coins, which is currently on sale for 2500. Sadly, prices like these seem to be Blizzard's new standard. Here is what you can get in the Doomfist x Saitama Bundle:
Saitama Doomfist Skin
Training Regimen Emote
One Hundred Push-Ups... Voice Line
Saitama Punch Highlight Intro
Saitama Doomfist Name Card
It's hard to imagine, that some of us are spending more than $20 on a skin in a video game that is free-to-play... There would be so many better and more importantly practical things to buy with $20... For example a new gaming mouse. Did you know, that you can get a Razer gaming mouse for under $20? The Razer DeathAdder Essential offers great performance and is super comfortable in your hand. The best thing is: It's currently on a discount, so you can get it for only $19,99 on Amazon.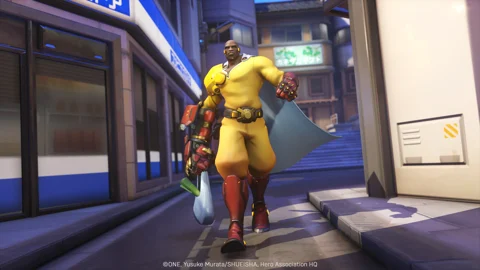 Mumen Rider Soldier 76
The Mumen Rider Skin for Soldier 76 was the second one to get announced. Luckily, you won't have to spend your money on this one, cause it's available as a reward for completing the event challenges. This time, the challenges for the One-Punch Man event are all based on the number of games that you played. No matter if it's Unranked, Competitive, or Arcade game modes, you'll get rewards just for playing, not winning, not getting 300 kills, just playing... Thank you Blizzard <3.
Here are all the event challenges:
| | |
| --- | --- |
| Challenge | Reward |
| 4 games played | Saitama's Fist Weapon Charm |
| 8 games played | Mumen Rider Name Card |
| 12 games played | Cyclist of Justice Victory Pose for Soldier: 76 |
| 16 games played | Justice Crash Highlight Intro for Soldier: 76 |
| 20 games played | Boros Weapon Charm |
| 24 games played | Legendary Mumen Rider-Soldier: 76 skin |
The Official History Of Overwatch Is Being Turned Into A Novel By Bestselling Author
Terrible Tornado Kiriko

This Kiriko skin is one of my personal favorites. Sadly, I can't grind through challenges to get it. You'll be able to get the Legendary Terrible Tornado Kiriko skin as part of a 2500 OWC Bundle, that is reduced to 2100 in the Overwatch 2 in-game store. Here is what the Kiriko x Terrible Tornado Bundle Includes:
Terrible Tornado Kiriko Skin

Terribly Impressive Victory Poses
Terrible Tornado Kiriko Name Card
Genos Genji
Genos Genji can be purchased in the item shop for 1900 Overwatch Coins, the bundle would normally cost you 2200, but it's 13% off. Unlike the other two bundles, the Genji x Genos Bundle only includes two collectibles, which would be the Genos Genji skin and name card.
If you want to get all the One-Punch Man skins, I would recommend looking into the One-Punch Man Mega Bundle. It includes 10 items and will cost you a discounted price of 4400 OWC at the moment. Buying all the skins separately would cost you 6500 Overwatch Coins, and that is just the reduced price...
The Mega Bundle includes:
Genos Genji Skin
Saitama Doomfist Skin
Terrible Tornado Kiriko
Training Regimen
Terribly Impressive
One Hundred Push-Ups... Voice Line
Saitama Punch Highlight Intro
Genos Genji Name Card
Saitama Doomfist name Card
Terrible Tornado Kiriko Name Card
This article contains affiliate links which are marked with [shopping symbol]. These links can provide a small commission for us under certain conditions. This never affects the products price for you.