A ginormous Zelda Tears of the Kingdom leak has revealed massive amounts of the game art, and after seeing everything we are even more hyped for this game to finally get released. Warning: Spoiler alert!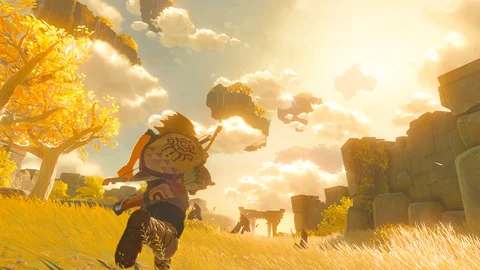 The latest Zelda Tears of the Kingdom leak revealed the entire art book, which is yet to release together with the game. This is one of the first but probably even one of the biggest leaks that we'll ever get for this game. It revealed the full game art of several outfits for Link, new characters, locations, and lots of new enemy types.
Although we were quite skeptical about whether or not we should look at it, because it could spoil the anticipation, we are now even more excited than ever.
The Legend of Zelda: Tears Of The Kingdom – Release Date, Story, Gameplay & More

!WARNING! This article includes major spoilers about Zelda: Tears of the Kingdom. Before you read on, you should be absolutely sure whether or not you want to know about these leaks. We also can't include any images of the leak for legal reasons.
Zelda Tears of the Kingdom Leak Reveals
The recent art book leak for Zelda Tears of the Kingdom revealed a lot of the game art and it just looks amazing. The leak includes pictures of many new enemy types and creatures that we've never seen before.
Enemy Types
There is one thing that all the smaller enemies in the game art book had in common. It looks like Bokoblins, Lizalfoes, and all the other common mobs can be equipped with a weapon on their head. It sounds as bizarre as it looks, because these creatures have blades and clubs on their head, which look like giant horns. How this is going to be implemented in the gameplay is uncertain, but we assume that Link can obtain whatever weapon an enemy has by killing them.
Let's talk more about the enemy types because the leak really showed us a lot about them. In fact, a lot of enemies that we haven't seen yet got revealed. There is a huge slug-like creature that reminded us a lot of Jabba the Hutt, a new mob-kind that seems to be quite similar to Lizalfos and a weird-looking, slimy, and overall off-putting thing, with a big, upturned, and wide open mouth.
The Legend of Zelda: Tears Of The Kingdom Is Bringing Back A Scary Ocarina of Time Enemy
As unpleasant as these creatures might sound, those are exactly the type of enemies we want to see in Tears of the Kingdom. Epic boss fights and scary creatures on Ocarina of Time level, that's what we're here for!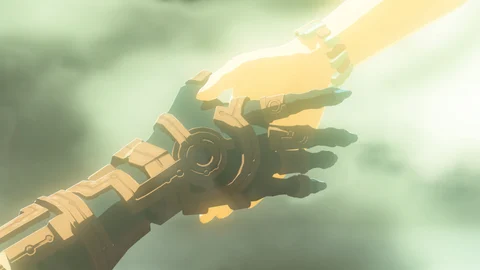 Goddess Hylia
The latest trailer for TOTK showed us a mysterious girl in a white dress. Many fans assumed her to be Zelda, but that has now finally been proven wrong because the art book includes an image of that exact person. Another, more fitting theory is that the girl is the goddess Hylia, a character who has appeared repeatedly in the Zelda series from the beginning. Although she is said to be a close ancestor of the royal family of Hyrule, she is not Zelda.
Link Outfits
A really cool part of Breath of the Wild was the many different outfits for Link. As much as we all loved running around Hyrule in nothing but boxers, gathering the best gear for every battle and weather was pretty awesome. Tears of the Kingdom is definitely not going to disappoint us there. The art book contains several concept art pieces of outfits for Link, which simply look incredible.
As taken from another sketch, TOTK will have gliding suits. Although we don't really have much info about it, it seems like the gliding suit could help Link go from one floating island to another.
Long-Awaited LEGO Zelda Set Could Be Coming Soon, Accidentally Confirmed By LEGO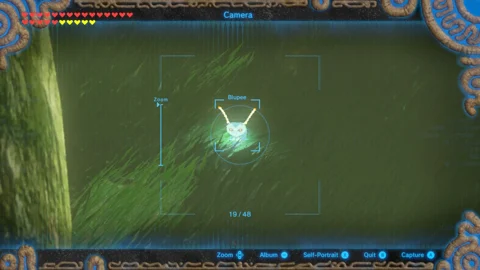 In terms of style, there is one fit that definitely stands out in the whole art book and that is an insane-looking Blupee outfit. Some of you might be familiar with the Blupees from Breath of the Wild, these blue and glowing creatures often appeared in the form of rabbits, which would drop up to 100 rupees if the player manages to hit them.
What these mysterious creatures actually are and where they come from has never really been explained, so we are very excited that they seem to play a bigger role in TOTK.
A rather unusual find in the leaked book was a Cartoon Link outfit, that doesn't seem to fit into the TOTK art style at all. We're super curious how Nintendo is planning on implement this into the game, because we really can't think of any way that this would make sense... It might be a special item, that players could obtain through Amiibos or maybe for completing a special challenge in the game.
Mushroom Characters
Although all of these things are quite cool and exciting. There is one thing in particular in the TOTK art book, that has caught my attention... folks, it's mushrooms. The book includes several pages filled with sketches of characters and game assets that are all mushroom themed. There even are a couple of gigantic mushrooms that look super impressive and remind us a lot of the Studio Ghibli aesthetic. Maybe Zelda Tears of the Kingdom will have a new mushroom biome and village. Either way, it fits perfectly into the Zelda vibe, and we're super hyped about it!
This article contains affiliate links which are marked with [shopping symbol]. These links can provide a small commission for us under certain conditions. This never affects the products price for you.