If you made your way to the desert planet Jedha in Star Wars Jedi: Survivor, you will find the Crypt of Uhrma. We tell you where you can find it exactly and how you can solve the Crypt of Uhrma puzzle to collect all it's rewards.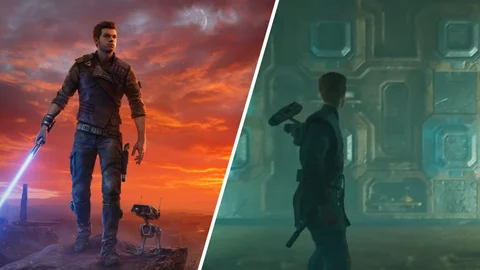 Are you stuck in front of the stone wall in the Crypt of Uhrma? Have no fear, we tell you how to open it by solving the puzzle and what collectibles await you in there.

Jedi Survivor: Crypt of Uhrma Location
Let us start real quick with the location of this Crypt. You can find it on Jedha. If you can find the location Blustery Mesa, you are on the right path. Here, you can find the Crypt of Uhrma which is hidden behind a stone wall. You have to Force Pull some pillars in order to open it.
As the solution to this puzzle is located in a different area on Jedha you might not have found it right away. Head away from the Crypt and take an elevator upwards. After clearing out some Stormtroopers, you have an overview into the desert. On the left-hand side, you can spot a series of pillars that are showing you the solution.
If you're loving Jedi Survivor but you didn't play the last game, we highly recommend checking it out!
Crypt of Uhrma Puzzle Solution in Jedi Survivor
But no need for you to make it there, as we show you the solution right here. As mentioned before, you need to Force Pull the right pillars to open the Crypt. These are the pillars you need to move:

Top row: top left and top right pillars
Bottom row: the two middle pillars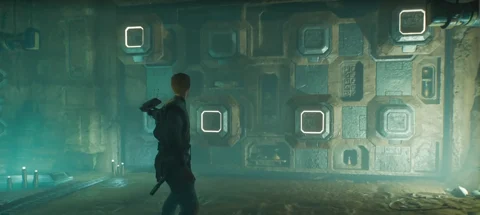 Do it like this and the door will open. Behind it, there are some rewards waiting for you. Make sure to get them all!
Star Wars Jedi Survivor: Crypt of Uhrma Rewards & Collectibles
Move on into the Crypt. Jump over the first gap and open the chest to collect another Stim. Look to your right and you will find an Echo. Continue by drooping back down and use your Force Pull to open up the way.
Follow the path until you encounter Skoova. Turn right here, go back a bit and unlock a shortcut with BD-1's help. Continue on the way and dash through the green wall.
Go through the waterfall and squeeze through the walls. Boss fight! Defeat the Sutaban Apha. Quite a tough fight, now the Stim upgrade comes in handy. Make sure to move around a lot and dodge his attacks. After you have won this fight, look around and collect the Gambler Perk. Now, you can make your way back.
Stick to the right side on your way out as there is more to find. BD-1 can scan something for your Databank, and there is another treasure: the Jedha Scroll.
If you are a fan of the series, this little LEGO Star Wars BD-1 will for sure be right up your alley!
Congratulations – you completed the Crypt of Uhrma now!
In case you are still stuck in there, here is a short video walkthrough:
This article contains affiliate links which are marked with [shopping symbol]. These links can provide a small commission for us under certain conditions. This never affects the products price for you.