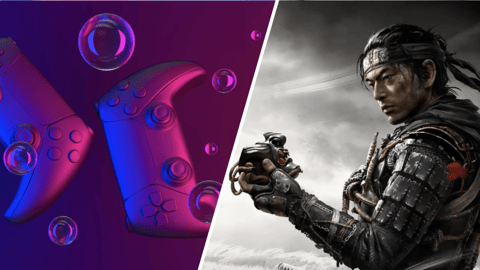 Netflix is making serious moves towards the gaming industry. A collaboration with Sony could bring PlayStation titles to the streaming service. Ghost of Tsushima in particular has been the subject of a reliable leak.
Netflix is making its intentions clear: games are going to be an integral core of the service. We already reported on the progress of Netflix Gaming last week. This week, a leak is giving us more on the topic. A lot more.
Ghost of Tsushima Leak Suggests Netflix-PlayStation Crossover
Datamine leaks are one of the most reliable ones you could hope for. That's why dataminer Steve Moser's discovery is as exciting as a leak could get. He has uncovered PlayStation content in the Netflix app code that includes images of PS5 controllers and the PS-exclusive title Ghost of Tsushima.
Netflix's gaming feature has a current working name of "Shark" and is represented by this image in their iOS app: a shark fin. Could an image of PS5 controllers and Sony's Ghost of Tsushima (director's cut coming Aug. 20th) indicate a partnership with $SONY? Cc @HedgeyeComm $NFLX pic.twitter.com/FLghlRlu20

— Steve Moser (@SteveMoser) July 15, 2021
As Moser himself suggests, this discovery could suggest a collaboration between Netflix and Sony on the former's developing gaming service. The two companies are on good terms already. A deal was struck this year where Sony Pictures Entertainment movies will be added to Netflix first after their theatrical release.
That paired up with the leak make the deduction an easy one: PlayStation games will have a role to play on Netfix's gaming service Shark.
Oh yeah, Moser also shared the service's working title. Netflix have chosen Shark as their gaming brand's name. Once again, a visual backing for that claim is provided by the dataminer: a logo comprised of a shark fin.
The Netflix Gaming project is shaping up before our eyes. Some of it official, some of it not. The one thing that's clear is that Netflix is taking this thing very serious and is putting in maximum effort into a successful launch.
You can follow the news feed on EarlyGame so you don't lose track of the development of Netflix Gaming.