Microsoft have been trying to acquire Activision Blizzard, but while the shareholders approved the deal, the UK authorities have concerns. Now Microsoft is making some desperate offers to Sony.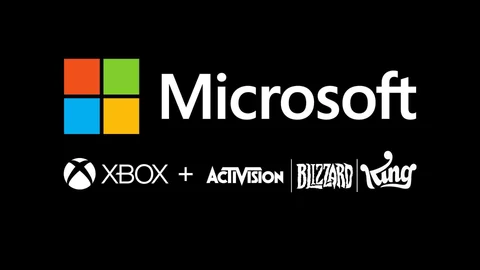 What's going on here? Microsoft wants to buy one of the biggest publishers in the world, Activision Blizzard, for a whopping $68.7 billion! This is probably the biggest deal in the gaming history so far, and will have a major impact on the industry.

We are joining the @Xbox family.

Learn what this means for our iconic games and player communities: https://t.co/abPxlb37kA pic.twitter.com/Z8sVgsjScz

— Activision Blizzard (@ATVI_AB) January 18, 2022
However, the deal is still not through and is being reviewed by the FTC and other regulators in Europe and the UK. After the Federal Trade Commission filed a suit against the merger on December 8, claiming the deal would suppress competition in the video game history, Microsoft is doing anything to convince them this wasn't the case.
Below, you can find the current state of the deal:
December 12: Microsoft Offer Sony CoD On PS Plus
Microsoft just recently announced that they made a 10-year commitment to bring Call of Duty to Nintendo, and they even offered Sony a similar 10-year agreement. Still, Sony is refusing to take any deals, arguing Microsoft could make Call of Duty exclusive to Xbox.

Now, to further show their willingness to bring CoD to as many platforms as possible, Microsoft made another desperate offer to Sony. They are in fact willing to give Sony the right to sell Call of Duty as part of their own subscription service PlayStation Plus, if the deal goes through.
By adding CoD to PS Plus, Sony would actually have something worth subscribing for, since their subscription service faced some criticism by players in the past and is by far not as attractive as Xbox Game Pass – at least for the moment.

November 24: Microsoft Admit PlayStation Exclusives Are Better
In an effort to convince regulators that Xbox should be allowed to buy Activision Blizzard, they have admitted that PlayStation exclusives are already much better. It's true, but weird to see Xbox admit to it, as the document states:
Third-party data suggests that in 2021, console exclusives accounted for ca. [10-20]% of Sony's global game sales on PlayStation, and ca. [10-20]% of the total sales of content on digital stores on PlayStation in 2020. Over the period from 2018 to 2021, exclusives accounted for [10-20]% of game sales and [10-20]% of total gaming content on PlayStation. In contrast, the equivalent figures for Microsoft's Xbox in 2021 were only [0-10]% and [0-10]%, and over the period 2018-2021 exclusives accounted for [0-10]% of game sales and [0-10]% when including digital in-app purchases. While Nintendo does not generally release its game sales data to third party market research companies, the available data, and the importance of Nintendo's exclusive first-party portfolio, suggest that these proportions would be even higher for the Switch.

Not only is Sony's exclusive content more successful than Microsoft's, it also receives better ratings from industry experts: the average Metacritic score for Sony's top 20 exclusive games in 2021 was 87/100, against 80/100 for Xbox. Gamers' appreciation for these titles is reflected in the rankings of the best-selling games on PlayStation.

Three of Sony's exclusive games – Spider Man, Ghost of Tsushima, and Ratchet and Clank – featured in PlayStations' top 15 games, as measured by consumer spend on PlayStation game purchases in 2021.
We wanted to share this amusing little update with you. Keep reading for a timeline of the acquisition so far.

October 12: UK Regulators Raise Concerns With Acquisition
The UK's monopoly regulators, The Competition and Markets Authority, have outlined various concerns with this deal. Namely, they fear that Microsoft's exclusive access to Call of Duty would harm consumers. As GameIndustry.biz first reported:
The CMA is concerned that having full control over this powerful catalogue, especially in light of Microsoft's already strong position in gaming consoles, operating systems, and cloud infrastructure, could result in Microsoft harming consumers by impairing Sony's – Microsoft's closest gaming rival – ability to compete as well as that of other existing rivals and potential new entrants who could otherwise bring healthy competition through innovative multi-game subscriptions and cloud gaming services.
Microsoft responded to these issues, claiming that the fears were overblown and that PlayStation would still remain in a dominant market position. In a statement shared with GameIndustry.biz they said the following:
The suggestion that the incumbent market leader, with clear and enduring market power, could be foreclosed by the third largest provider as a result of losing access to one title is not credible.
The Competition and Markets Authority will continue their investigation, with a full report expected in March 2023. Let's see if Microsoft can assuage their fears.

What Does The Microsoft x Activision Blizzard Deal Mean?
With the takeover of Activision Blizzard, Microsoft also takes over the approximately 400 million monthly players and, of course, all studios and franchises. These include brands such as Call of Duty, Diablo, World of Warcraft, Starcraft and Overwatch, but also the popular mobile game Candy Crush. In return, Activision will have access to Microsoft's artificial intelligence and, of course, numerous experienced programmers. Both companies benefit from this merger.
Microsoft bought Bethesda not too long ago and also owns the studios behind Minecraft and Halo, but with this deal, they've consolidated their position in the industry. Many fans hope that Microsoft will now take care of dealing with the abuse cases at Blizzard, which Activision Blizzard CEO Bobby Kotick has been seemingly failing at in recent months.

However, there are anxious voices in the community who are wondering how PlayStation can compete. In theory, Microsoft could bring all Activision Blizzard games exclusively to Xbox and PC in the future, which would be a heavy blow, especially for Call of Duty. However, since CoD has always had a very strong community on PlayStation, we see no reason why Microsoft should ban these players in the future.


So Microsoft has no interest in excluding PlayStation players in the future, but wants to make their games available to as many gamers as possible. However, what can and will happen is that the Activision Blizzard franchises will no longer have exclusive deals with PlayStation in the future. In the past, PS players often had early access and even entire game modes in CoD that were PlayStation exclusive. They will probably have to do without that in the future.
We'll have to be patient to see the full impact of this deal, however, as Bobby Kotick says the acquisition is expected to take until June 30, 2023, to fully close. Until then, both companies will continue to work autonomously, as before.

What do you think of Microsoft's acquisition of Activision Blizzard? Are you hoping for better games as a result, is Microsoft perhaps becoming too powerful as a result, or are you just completely furious?