If you're thinking about picking up Minecraft Legends for yourself, you will need to know its exact release date.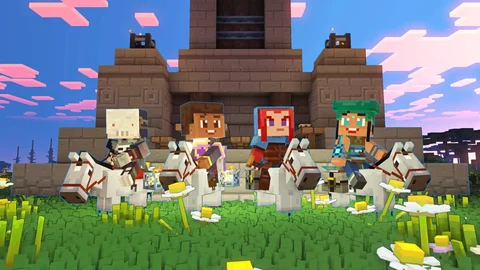 Minecraft Legends is a new action-strategy game that is considered an official spin-off from the base Minecraft series. In it, you will plot real-time strategies against opponents in an effort to take control of an enemy's base and build your own base at the same time. Of course, if the PvP action isn't for you, then you are able to take on the story campaign of Minecraft Legends by yourself or in co-op with friends.
The title is certainly exciting for long-time fans of Minecraft. However, some are still not privy to the game's exact release date, so allow us to reveal everything about when Minecraft Legends is launching.
How Many People Play Minecraft In 2023? Player Count
Minecraft Legends release date
At the time of writing, the official release date for Minecraft Legends is April 18, 2023. While this could theoretically still change due to a delay, we don't envision that would happen, as that date is just over a month away at this point.
When the game does release, it will be available on every major platform, including PlayStation 4 and 5, Xbox One and Series X|S, Nintendo Switch, Windows for PC, Xbox Game Pass, and Xbox Cloud Gaming. No platform will have a delayed launch, so every player will gain access to the game at the same time. This is terrific news for players with friends on other platforms, as Minecraft Legends will support full crossplay at launch.
Minecraft Legends will cost players a total of $40 when it releases. This is, of course, for all non-Game Pass subscribers. If you are a Game Pass subscriber, you only need the base service and not the upgraded Ultimate Edition to play Minecraft Legends.