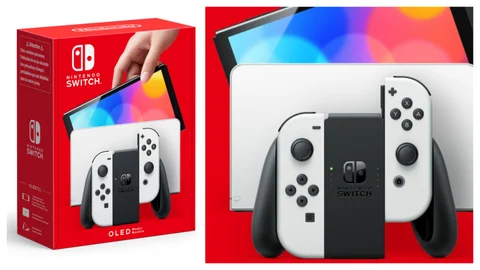 Online-Retailers have already started taking pre-orders for the Nintendo Switch OLED. The new Switch was only officially announced a week ago! Let's take a look at everything you need to know about the OLED Switch, its price, specs., release date, and where you can pre-order it in the US, EU, and the UK!
The OLED Nintendo Switch is by no means a pro-version of the Switch as the chipset is the same, but it does have an upgraded screen. The OLED does, however, fall short of most Nintendo fan's expectations – but hey, at least it comes in white!
Nintendo is kind of known for ignoring fans and trends in the market, since they have insane brand loyalty and are the OGs of gaming. They are the granddaddies of gaming, so Nintendo does what Nintendo does, and you are just along for the ride my friend.
Take it or leave it! Here is the OLED Switch!
Nintendo Switch OLED Model Details
Brand new 7" OLED Screen
Wide and adjustable stand
Better and enhanced in-system audio
The Nintendo Switch OLED Dock features a new Wired LAN Port
The Output Display is only 720p
There are way more specs for the Switch, but seeing as they are the same as the original, I'll spare you the tech-talk.
What is the Nintendo Switch OLED Price?
In the US, the OLED Switch costs $349, in Europe it'll set you back €359, and UK retailers are charging £309. Looks like the EU gets the short end of the stick on this deal.
Where Can I Pre-order the Nintendo Switch OLED?
You can pre-order the Nintendo Switch from pretty much any mainstream retailer – it's everywhere, so finding a retailer to pre-order from should not be an issue at all. Keep in mind, the OLED Switch releases on October 8 of this year, so there is not a huge rush to jump into the queue. But, if you must have this sleek white slightly better Nintendo Switch, then we suggest you check out your Mediamarkts, Best Buys, Walmarts, Argos, JBHI-FIs and GameStops in your respective regions. In our research, we have confirmed that most big-box retailers are taking pre-orders. Turns out that these companies are happily accepting your money well in advance of the launch date.
Check out MyEarlyGame for a free and customizable experience. Get engaged on Twitter and Facebook.