A redditor just leaked the new special edition of the Switch OLED being released alongside Zelda: Tears of the Kingdom. This is going to be an absolute must-buy for serious Zelda fans!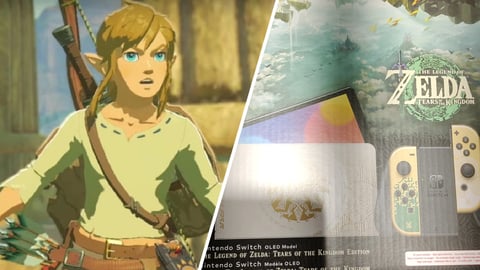 Zelda: Tears of the Kingdom (Breath of the Wild 2) will be released in May 2023. And the community are besides themselves with excitement (and you can't blame them; watch the reveal trailer). But for all the superfans out there, what's the ultimate piece of Zelda merch they could acquire to celebrate TotK's release? Even more special than the ultimate edition of the game? A Zelda-themed-Switch!


Images Leak Of Special Edition Zelda-Switch
Just a few hours ago, Reddit user u/AyoadeNBN shared an image of the new special-edition Nintendo Switch OLED being released alongside Zelda: Tears of the Kingdom. Before we get any further, take a look:

View post on imgur.com
Pretty awesome right? But this is definitely going to be a hard console to get your hands on. We expect collectors and price-gougers to be fighting tooth and nail for this version of the Switch.
Of course, special edition consoles are nothing new, but what makes this leak interesting is that it clearly contradicts an earlier rumor suggesting that the Switch 2 would be released with the new Zelda. Clearly that isn't happening, and so we might see the Switch 2's release date being pushed back into 2024.
So far Nintendo are yet to respond to the leak or confirm its veracity. We will update you as soon as we hear more, until then, check out the competition Zelda TotK will be facing this year for GOTY!