Overwatch 2 is launching the Pachi-Marchi event again. Now, players will be able to get the popular Pachimari Roadhog skin again, here is what you'll have to do for it.
The Pachi-Marchi event is coming back to Overwatch 2 to celebrate the weird-looking onion squid creature once again. This time, you'll get the chance to get your hands on this amazing Pachimari Roadhog skin, that not only looks super cute, but much to our surprise won't cost you a dime. Here is what you'll have to do to get it.

Did you know that the Pachi-Marchi event also launches a brand-new community tournament? Here you can find out all about how to sign up and what to expect.
Overwatch 2: How To Get The Roadhog Pachimari Skin
The Pachi-Marchi event first launched in Overwatch 1 two years ago and is set to make its debut on March 21. The Pachimari is a cute creature that appears quite often in the franchise. Funny thing is that nobody really knows where it came from, or what it's even supposed to resemble... Is it an onion or maybe a squid? Whatever it is, people love it, and so does Roadhog.
The popular tank hero even got his own Pachimari skin, where he wears a belt that says "#1-FAN". When the event was first released in 2021, players could obtain the Roadhog Pachimari skin by completing a challenge. This time around, it's probably going to be no different.
The Roadhog Pachimari skin is only an epic skin, and on top of that it's also two years old, so we don't expect Blizzard to put a price tag on it.... Hopefully.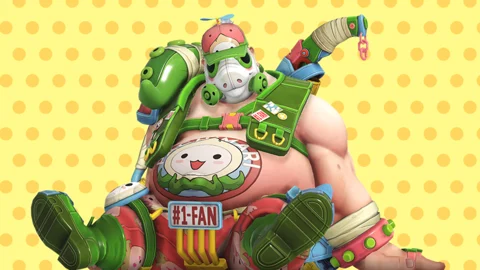 Unfortunately, Blizzard hasn't revealed any official information about the event challenges yet, but we assume that the skin is locked behind similar challenges as two years ago.
In 2021, players would get the Roadhog Pachimari skin for winning nine games of Quickplay, Competitive or Arcade game modes. Since Overwatch 2 is known for making it harder to get skins, it's likely that the challenges for this year's Pachi-Marchi event might be a bit harder than two years ago. As soon as Blizzard shares more detailed information with us, we will let you know in this article.
In the meantime, you might want to check out how to get the One-Punch Man skins that are also available at the moment. (Spoiler warning: You can get one for free)
Whether you're a PC or console gamer, playing Overwatch 2 with friends is incredibly fun. But one thing I had to search for a super long time is a decent gaming headset. For me, comfort as well as good microphone and sound quality were most important. Recently, I found just the right thing for me. The Razer Barracuda X (2022) is the best gaming headset I've ever had. It's super light, has incredible sound and microphone quality, and the best part is that it doesn't look like a clunky, cheap gaming accessory, but is actually very stylish, exceeding all my expectations.
This article contains affiliate links which are marked with [shopping symbol]. These links can provide a small commission for us under certain conditions. This never affects the products price for you.