The first huge updated for Sons of the Forest is out now - read the patch notes here! We're getting new items and more!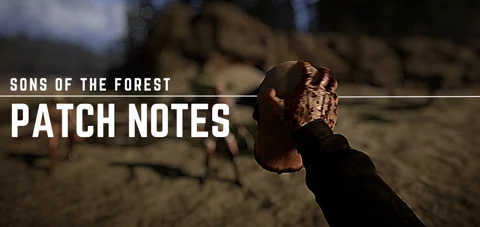 The release of Sons of the Forest (a sequel to the popular 2014 game The Forest) has been a great success. But despite good feedback from players about their impressions of the game, there are still a lot of bugs and crashes.
Endnight Games has therefore decided to release the first update in which they added many new items, made balance tweaks, and above all fixed some damn bugs...
Keep reading for more details!
New Features
Most excitingly, the first update to SotF has introduced additional items and building opportunities. These include binoculars, which come in handy on lookout towers, and a hang glider, which will allow you to quickly cover large distances while getting a bird's-eye view of the forest. Those who have the most fun with building will also get a lot out of the update.
Here are the new features:

Added Binoculars, hang glider, defensive wall gate
Added mid-game boss fight into food bunker
Added Settings Reset in the Options screen
Added missing Virginia leather suit pickup to world
You can now lock doors with a stick placed on the interior of the door
Built small structures (furniture) can now be grabbed, while grabbed it can either be placed again somewhere or thrown to collapse it and get back its resources
Some additional story elements added
Angry regular cannibals can attack now by jumping out of trees
Added option to hide projectile reticle and trajectory
Fish trap should now work and catch fish (every 5–10 minutes) as long as it's placed in water and the current season is not winter
Added lookout towers to some cannibal villages
Balance Changes
They've also introduced some gameplay changes. For example, energy drinks now offer half the hydration and energy boost, and you can't simply sleep through the winter by going back to bed several times in a row, as a certain interval between sleep sessions is required. The nap itself, on the other hand, can be interrupted by enemy attacks.
Here are the details:
Added sleep cooldown
Set rest drain from hunger and dehydration to 0
Muddy Cannibals will now get less angry (from player proximity and in late game)
Added possibility of Player Sleep Interruption events from nearby enemies that can reach player
Tweaked fire drain rate to make using firewood more important
Tweaked berries to give slightly more fullness
Tweaked energy drink to give half as much hydration and less energy buff
Tweaked amount of fullness and hydration all herbs and mushrooms give
Fixed opening a cave in late game having too many enemies
Adjusted some player melee events and ranges for better A.I. responsiveness
Halved shotgun damage
Increased health on creepies depending on amount of multiplayer players active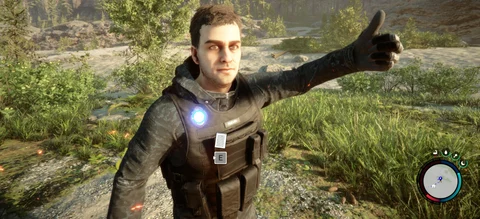 Bug Fixes
Another important change is also that Kelvin will no longer cut down the trees on which the player's buildings are located, which was the cause of many memes.
Should no longer be able to get through locked doors with a stick (Sorry speed runners!)
Fixed Kelvin cutting down trees with player structures attached
Fixed keycard guest not opening the two doors in bunker entertainment and not being needed to get into bunker residential
Fixed ghost blueprints not rendering underwater (for example fish trap)
Fixed some stream underwater rendering glitches
Fixed some potential issues on multiplayer disconnect
Fixed multiple issues with input bindings
Fixed player stuck after dying while climbing rope
Fixed being able to place paper target on tarp collision
Fixed place defensive wall option available on non grounded pillars, often resulting in invalid placement that gets rejected
Fixed placing a defensive wall log against a pillar made of log quarter variation causing an invalid placement that gets rejected
Fixed destroying the small animal deadfall trap getting its resources yielded back twice
Fixed some issues occurring when a fire is destroyed while interacting with it
These were the most important changes we expected. You can find a full list of them here. The developers of the game, Endnight Games, can only be praised - not only because of the improvements the update has made, but also because the players' voices have been heard.
Devs listened - great patch from SonsOfTheForest
Can't wait for the next update already!
This article contains affiliate links which are marked with [shopping symbol]. These links can provide a small commission for us under certain conditions. This never affects the products price for you.