Nintendo just revealed the official release date for Splatoon 3 and also showed us a bit more of the gameplay.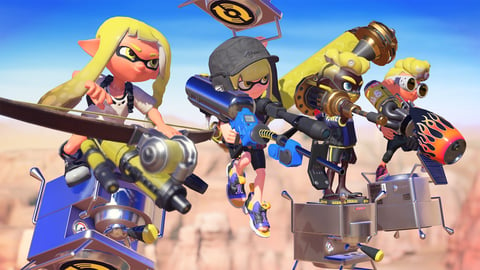 Okay, friends of the mild ink-shedding, ink-spraying and ink-splashing: it's been a whole year since Splatoon was officially announced by Nintendo. Now – forking finally – we have the official release date in front of us, and... well, we won't have to wait much longer.
On top of that we got some more info about the third entrance of the Third Person Shooter via a Press Release by Nintendo. So, buckle up, get ready to get inked and just look forward to playing Splatoon 3! Here's all the news we've learned about the game today...

Splatoon 3 – Release Date, Content & More
Of course, we don't want to keep you in suspense any longer than necessary, so we'll get straight to the point: Splatoon 3 will officially be released for the Nintendo Switch on September 9, 2022! After 2022 brought us AAA+ games like Horizon: Forbidden West and especially Elden Ring, we can look forward to another huge franchise release.

After watching this fantastic trailer, who doesn't get a little bit hyped about 4vs4 Turf War battles in the Splatlands desert? And the new weapon – Stringer – will probably be a lot of fun as well... with this bow-like weapon you can sling your ink sideways or vertically!
However, the developers do not only want to address multiplayer fans with Splatoon 3, but also offer content for single-player enthusiasts. The game features a fresh single-player campaign and the next iteration of the co-op Salmon Run mode.

In fact, you don't even have to wait until September to get in on some new Splatoon action. Right now, as long as you're an active Nintendo Switch Online + Expansion Pack member, you can try out the Splatoon 2: Octo Expansion DLC for free on your console. We could also tell you what content awaits you in this expansion, but it's best to just find out for yourself, huh?