Yes, Snoop Dog is really coming to Call of Duty. He will be a new Operator in Warzone and CoD: Mobile!
Okay, before you freak out and assume this can't possibly be true, you should know Call of Duty and Snoop have a history of collaboration. He's appeared at multiple live events, he's performed at the Call of Duty Championships, and he's already featured on in-game content in Call of Duty: Ghosts. He's spoken openly about enjoying CoD games in the past, and from their side, Activision know how well a Snoop Dogg skin will sell. So yeah, this is not too surprising.

The Snoop Dogg Operator Bundle
Snoop Dogg will be available as Operator in Vanguard and Warzone. The Warzone and Vanguard Snoop Dogg Operator Bundle will include ten items in total and a full Operator progression track. Rewards across these 20 levels of Operator progression include Weapon XP for Snoop's preferred weapon from Vanguard, three alternate outfits, and other cosmetic items.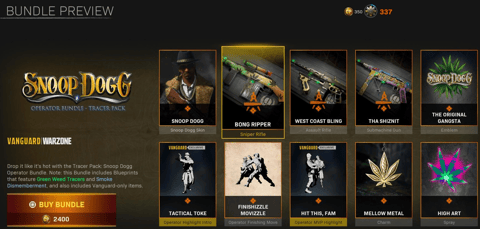 This is fantastic news, it'll be the first truly top-tier skin we've seen in Vanguard (unless you're an Attack on Titans fan). If you were playing Call of Duty back when Ghosts released, you'll remember how funny he was in that voice line pack. If the new skin comes with voice lines again, then it stands a chance of being the most popular bundle we've ever seen.
When Will Snoop Dogg Be Released?
Snoop Dogg will be arriving today, April 19. To be more accurate, he will be available on April 19 at 10 am PT. Here is the official announcment by Snoop Dogg himself:
Tomorro. Droppin in like its hot. U gots 2 do it! @CallofDuty #CoDPartner pic.twitter.com/136iupdTbR

— Snoop Dogg (@SnoopDogg) April 18, 2022
The community seem pretty hyped about this so far, after all, the Vanguard bundles have been very boring so far. Let's hope we get a better storefront when Modern Warfare 2 drops later this year.