The Call of Duty series continues with Modern Warfare 2. Here is all the information you need, including the release date, new gameplay features, weapons, maps and more.
Vanguard was an objectively sh*t Call of Duty game, but don't worry, Modern Warfare 2 is finally out. We've already received a ton of official information about Modern Warfare 2, and we've tested the multiplayer for ourselves. We can thankfully confirm that the game will be an improvement on last year.
In this article, we've summarized all the important information about Modern Warfare 2 for you.
Modern Warfare 2: Everything You Need To Know
Editions
MWII is available in three different editions. All editions are available for pre-order and contain cosmetics that can be used in Warzone.

Standard Edition
Cross-Gen Bundle Edition
Vault Edition
The first two editions are self-explanatory, but the Vault Edition is the ultimate version of MW2. Besides the game, it also includes the Battle Pass with 50 tier skips and a lot of exclusive cosmetics.
Release Date
Modern Warfare II was released on October 28, 2022. However, if you pre-ordered digitally, you could start playing the campaign as early as October 20. Both Vanguard and Black Ops Cold War were released in early and mid-November, respectively, so MWII actually hit the market a bit earlier than usual. If you want them, here are the exact start times for MW2.

Campaign
Of course, Modern Warfare II also has an action-packed campaign. The campaign will have us fight different enemies in several countries around the globe – a drug cartel in South America being only one of them. Here is our detailed MW2 campaign review.
Spec-Ops
Spec-Ops is back, but it's much more like the traditional Spec-Ops than Modern Warfare 2019's version. Obviously this is great news, MW2019's Spec-Ops was terrible. If you want to read all about the co-op mode coming to Modern Warfare 2, here is a guide to Spec-Ops.
Multiplayer
The multiplayer is a lot different to the last three years as there's no slide-cancel and gameplay overall is a bit slower. In general, the Modern Warfare 2 multiplayer is more tactical, and more AR-dominated than any of the recent CoDs. You can read a complete analysis of the multiplayer here.
Maps
The multiplayer maps in Modern Warfare 2 are finally less like normal Infinity Ward maps; they're well-designed and colorful. In addition to these new maps, some popular maps from the original MW2 will return as remakes. Here are all the maps we know about so far:
Weapons
In terms of weapons, we get a wide selection of assault rifles, SMGs, LMGs, sniper rifles, shotguns, DMRs, pistols, knives, launchers and melee weapons and even a new category called Battle Rifles. If you want to know more, here's a tier ranking of every weapon in Modern Warfare 2.

Modern Warfare 2's new Gunsmith is particularly exciting, in that we are returning to the usual 5 attachments per weapon, but have an incredible number of options to customize our favorite guns to our play style. Here we took a closer look at the new system:
As in every CoD, there are of course countless camos that you can use to customize your weapons. We already listed all the unlock challenges and explained how the Mastery Camo system works in this article: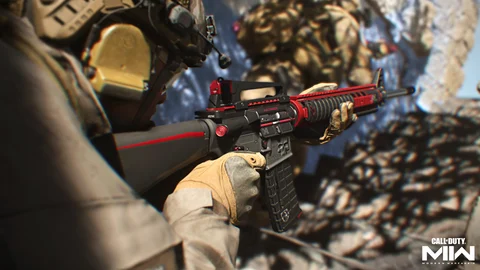 Game Modes
The game modes include all the old familiar ones like Team Deathmatch, Hardpoint, Kill Confirmed, Search & Destroy etc., but there are also some new modes. Besides the modes just mentioned, we also get the Ground War mode with big 32v32 matches, as well as a 3v3 mode called Raids, which is designed for very tactical gameplay. For 6v6 we have two new modes that are no-respawn modes, but which have revives, like Cyberattack did. These two new 6v6 modes are called Prisoner Rescue and Knock Out. Oh, we also get a 3rd-person mode...
Perks
In MW2 there are so-called Perk Packages, each consisting of four perks, two base perks and one bonus and ultimate perk. These perks are unlocked gradually over the course of a match. Kills, objectives, assists and more speed up the unlocking process. You can find a detailed overview of all perks here:
Field Upgrades
Field Upgrades are also returning in MWII. We get gadgets like tactical cameras, a decoy mine that triggers a soldier dummy or a DDoS device that works similar to an EMP. A complete list of all available field upgrades can be found here:
Killstreaks
As always, killstreaks are available in MWII because nothing is more satisfying than a nice multikill that directly unlocks a chopper gunner. A UAV and a controllable bomb are once again part of the game, and we also get a napalm attack, a stealth bomber and many more. Here we have summarized all the info for you:
Ranked Play
Modern Warfare 2 will also have a Ranked Play mode, which is supposed to be available much earlier this time around. In the past, Ranked Play was often introduced months after release, but according to the latest information, MWII will get its Ranked Play mode shortly after release. Here you can find more info:
And there you have it folks, a short, sharp overview of everything you need to know in Modern Warfare 2.

This article contains affiliate links which are marked with [shopping symbol]. These links can provide a small commission for us under certain conditions. This never affects the products price for you.