Warzone 2.0 and Modern Warfare 2 is coming with a completely reworked Gunsmith and Weapon Tuning. In this article, we explain how the gunsmith and weapon tuning works.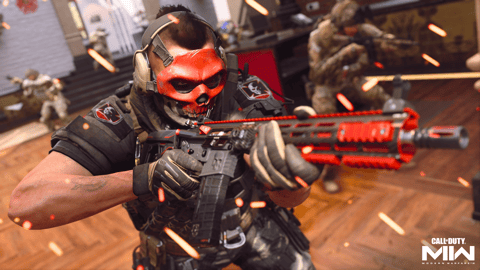 The gunsmith system was introduced in MW 2019 and was considered a huge success. There used to be a time when your only options were fast mags or extended mags, but now we can basically make new weapons by changing the receiver and caliber of the guns. With Modern Warfare 2 and Warzone 2.0 the gunsmith is taking weapon customization to a whole new level. It's simpler by design, but more complex when it comes to the attachments. So let's dive into all the details.
This Is How The Gunsmith In MW2 & Warzone 2.0 Works
When you unlock a weapon in Modern Warfare 2, you're actually unlocking a "platform", because for each platform (like the M4 or the Lachmann) you can change the receiver to 3 or 4 different ways to unlock a weapon for a new category. So you only need your player level to unlock the first gun of a specific platform. All following guns need to be unlocked by leveling another gun and thus unlocking a new receiver for it. In our example, we'll take a look at the M4 in detail.
As you can see in the picture above, leveling up the M4 assault rifle version unlocks the receivers for the FTAC Recon (the battle rifle version) and the 556 Icarus (the LMG version). These in turn unlock the M16 (assault rifle with burst fire) and FSS Hurricane (SMG version) respectively. Sounds complicated, but it's actually not.
Each of these weapons also unlocks different attachments as you level up, one of which is a new receiver that then unlocks the new weapon.
Here you can see the attachments of the M4, which at level 13 unlocks the receiver for the FTAC Recon:
What is even more exciting is that you don't have to unlock the individual attachments for each weapon over and over again. All of the attachments that you received when leveling up the M4 can be used directly on the FTAC Recon or 556 Icarus if they are supported by the respective weapon. This has a big advantage, but also a small disadvantage.
The advantage is that you have a few attachments at your disposal already as soon as you unlock a new weapon. So you don't have to unlock the one optic and the one grip you want for the hundredth time. However, this also means that you can't get all the attachments for a weapon just by playing that specific weapon. For example, if you want a certain grip for the M4, it may be unlocked by leveling the 556 Icarus or M16 or maybe even a gun from a totally different platform.
Got it? In our loadout guides, we will of course explain how to unlock each of the attachments that we use, to make it easier to understand. If you still want to know how the new perk system in MW2 works, take a look here:
Attachment Tuning
Once you have a weapon to max level, you can begin attachment tuning. This is a lot simpler than it might sound. You can take certain attachments (barrels, muzzle attachments, grips and stocks) and you can adjust them individually. Each attachment will have two axes along which it can be adjusted, but typically the adjustments will come down to this tradeoff: you can make attachments heavier/bigger for better accuracy and stability, or you can make them lighter for better ADS or mobility in general.
Here's a typical example of weapon tuning: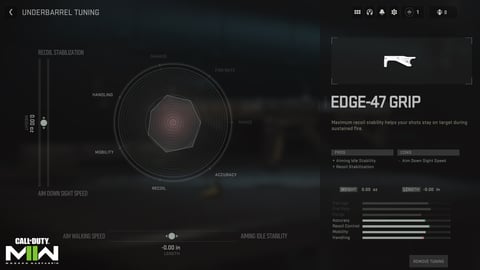 As you can see, we have two axes of adjustment. The first is how much the attachment should weigh, and the second is how long it should be. When we make the attachment heavier, we get better recoil control but worse ADS. And then the longer we make the attachment, the better aiming stability we have but worse movement speed.

These are really only micro-adjustments, and they won't fundamentally change attachments too much. As a rule of thumb, higher-skilled players will want to sacrifice recoil control and accuracy for greater mobility, and lesser-skilled players should prioritize better recoil control.

Okay, hopefully that wasn't too confusing. But if it wasn't, and you're still here and ready for more gun talk, then check out the top-tier meta weapons in Warzone 2.0.

What is different in Warzone 2.0?

This article contains affiliate links which are marked with [shopping symbol]. These links can provide a small commission for us under certain conditions. This never affects the products price for you.